Brexit referendum 1 year on: 10 moments Britain would rather forget (VIDEOS)
Published time: 23 Jun, 2017 10:19
Edited time: 25 Jun, 2017 08:25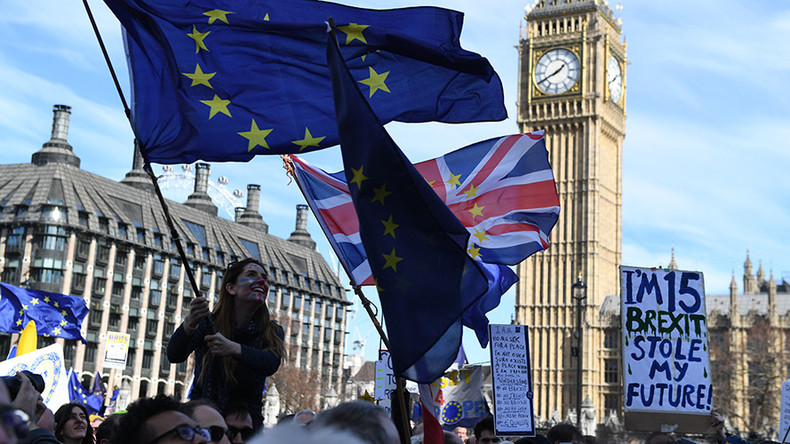 One year to the day since Britain opted to leave the European Union, RT UK looks at the bumpy road since referendum day as Brexit negotiations begin in earnest.
1. Cameron's gamble backfires
The Brexit saga began when an overconfident David Cameron took a high-risk gamble on an unnecessary referendum and took Britain out of the EU by accident, triggering months of political and economic instability.
Scarcely a year after a triumphant general election victory, the former prime minister was compelled to resign, saying it would be wrong for him "to be the captain that steers our country to its next destination" after fervently leading the 'Remain' campaign.
READ MORE: Cameron: A political obituary… PM leaves a legacy of failure and claims of pig headedness
At the time, it looked as though Cameron's decision to call a referendum was the biggest political gamble to backfire in a generation. The worst, however, was still to come...
2. Generations divided
Young people, the majority of whom voted to 'Remain' in the EU, protested throughout the country to show their anger with the 'Leave' vote, with some directing their angst at older voters, who appeared to have swung the EU referendum result.
Some young people blamed the 'baby boomers' for voting for something that will not really affect them, leaving young people to deal with the consequences. A screengrab of a comment on the Financial Times website that went viral said young people's freedom of movement had been snatched away from "a generation that was already drowning in the debts of our predecessors."
Hundreds of young Brits gathered near parliament with signs saying: "Where was my vote?" "I am not British, I am European," and "Brexit, what a bloody joke."
3. 'Brexit means Brexit' mantra
After the leave vote, few really understood what Brexit would actually mean for Britain, and newly minted Prime Minister Theresa May's repetitive and roundly mocked "Brexit means Brexit" mantra failed to offer any clarity.
READ MORE: Has 'May-bot' malfunctioned? PM's popularity ratings crash under election pressure
Following May's failure to answer questions about negotiations with anything more than this manta, or some other sound bite like "I want to get a good deal," she acquired the nickname 'Maybot.'
4. Not enough staff
A leaked report prepared for the Cabinet Office in November revealed that May's government did not have enough staff to implement Brexit. The document said that an extra 30,000 civil servants would be required for 500 Brexit related projects.
READ MORE: Leaked memo suggests Tories have no Brexit plan… or enough staff to make it happen
Whitehall departments reportedly began collapsing under the weight of the increased workload and unfeasible deadlines, putting more even pressure on May to get the job done.
5. What's the point of UKIP?
After what Nigel Farage described as his "Brexit victory," the former UKIP leader and Euroskeptic MEP stepped down as his party's chief, saying his job was done.
However, just months later, UKIP was devastated in the June 8 general election, failing to win even a single seat. Leader Paul Nuttall resigned. Now that Britain is leaving the EU, the party will struggle to find its political niche.
6. Brexit regrets?
The majority of British voters now think leaving the EU is a mistake, polls show.
Brexiteers had claimed during the campaign that leaving the EU could free up an additional £350 million for the National Health Service (NHS). This emotional appeal won many people over to the Brexit argument. However, after the vote, this idea was exposed as false.
The figure that was emblazoned on Vote Leave's campaign bus, which transported prominent Brexit campaigners such as Boris Johnson, has been branded as "misleading" by the UK Statistics Authority.
7. Banks, firms & agencies look elsewhere
Following the Brexit vote, financial institutions warned that a mass exodus of London bankers could begin as early as this year. Many are finalizing post-Brexit plans, deciding on how much of their business needs to be shifted in order to maintain relationships with clients in the remaining 27 EU member states.
Cities like Paris, Amsterdam, Luxembourg, and Frankfurt have been vying to become the new center of international finance since Britain voted to leave the EU.
8. Passport applications
Desperate to hold on to EU citizenship following Brexit, thousands of Brits have applied for Irish, German, and French passports, with some citing economic uncertainty and a rise in racist incidents.
British applications for Irish passports at the Irish Embassy in London doubled last August compared to the same period the year before.
The French Embassy says a record number of British people are applying for passports.
Meanwhile, a number of Jews who settled in Britain after escaping Nazi persecution have sought German citizenship. The German embassy in London says, since the vote, it has received "dozens" of requests for information from the descendants of German refugees living in Britain. Previously, only two or three UK nationals sought German citizenship per year.
9. 'Strong and stable?' May's election fail
The 2017 general election will go down as being amongst the worst mistakes in British political history. May's gamble saw her lose her majority in the face of unexpected Labour gains.
She called the snap election expecting a landslide victory that would give her the powerful majority she needed to crush opposition to her hard-Brexit plans.
Her badly managed election campaign and failure to connect with voters left her party significantly weakened in the House of Commons, and she is widely expected to resign before the year is out.
10. Britain caves on Day 1
By the end of Day One of Brexit negotiations in Brussels, the man responsible for getting Britain the best possible deal, David Davis, had already capitulated to one of Europe's key demands.
After hours of discussion with Europe's lead negotiator, Michel Barnier, Davis agreed to set aside discussions on free trade and instead push forward with negotiations on Britain's multimillion-euro divorce bill.
The EU's insistence on a two-phase negotiation had previously been described by Davis as "the row of the summer."
Observers were quick to note that the Brexit secretary's pugnacious tone at the beginning of the day was gone by the afternoon.