Leaked memo suggests Tories have no Brexit plan… or enough staff to make it happen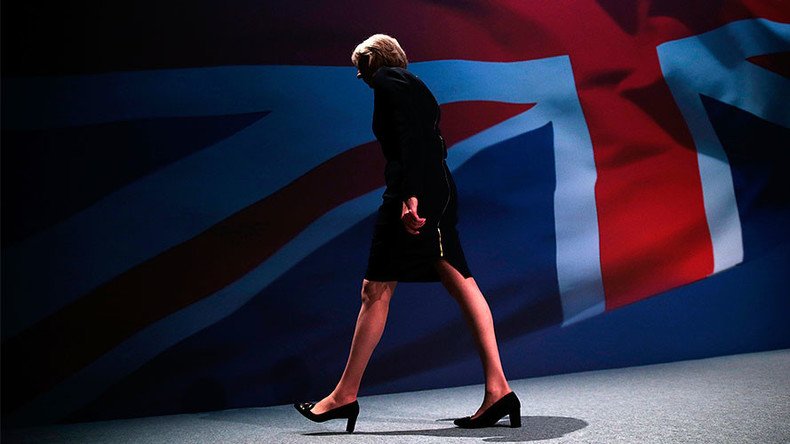 A leaked report prepared for the Cabinet Office reveals how Prime Minister Theresa May's government has no plan for delivering on its Brexit pledge, or any understanding of its implications for British industry.
The Times obtained a memo prepared by financial services company Deloitte dated November 7 called "Brexit update," which blames Cabinet squabbles for the delay in negotiations that are supposed to begin in April of 2017, when the government hopes to trigger Article 50 of the Lisbon Treaty.
The document also sets out how 500 Brexit related projects would require recruiting an extra 30,000 civil servants.
"Major players," the leaked memo reads, "will point a gun at the government's head" following promises made to Nissan carmakers about post-Brexit trading conditions.
Whitehall departments are reportedly collapsing under the weight of the increased workload and unfeasible deadlines.
"Every department has developed a 'bottom-up' plan of what the impact of Brexit could be – and its plan to cope with the 'worst case.' Although necessary, this falls considerably short of having a 'government plan for Brexit' because it has no prioritisation and no link to the overall negotiation strategy," the report states.
"Departments are struggling to come up to speed on the potential Brexit effects on industry. This is due to starting from a relatively low base of insight and also due to fragmentation," it explains.
Speaking to BBC Radio 4 Today program on Tuesday, Transport Secretary and Brexit Cabinet committee member Chris Grayling said he could not recognize the memo, as it was "not something the government commissioned."
He also denied that several thousand extra staff would be needed to meet the task.
Whitehall sources trying to rubbish leaked memo: "This is about as meaty as Will Straw sending something to the letters page of the Times."

— Alex Wickham (@WikiGuido) November 15, 2016
However, the Public and Commercial Services (PCS) union says the leaked document exposes a lack of vision in the government, which has cut around 100,000 Whitehall jobs since 2010.
"We wrote to government departments and the head of the civil service after the referendum to ask for early talks on the impact Brexit would have, but we have still not had a satisfactory answer," PCS general secretary Mark Serwotka said.
"It's a disgrace that political rows within the cabinet appear to be frustrating this process."
Liberal Democrat leader Tim Farron piled on, describing the whole affair as a "shambles at the heart of government."
Scottish National Party spokesman Stephen Gethins echoed the sentiment, adding that the leak offered a "staggering insight into the utter confusion and chaos" among Conservative Party ranks.
"This report shows how totally unprepared the leaders of the Leave campaign were for winning the referendum," chimed Labour MP Pat McFadden, pointing out that "they urged the UK to leave without having any real idea of what it would involve."
His colleague, Shadow Brexit Secretary Keir Starmer, said: "Brexit is the most important issue facing Britain for generations and it is simply not good enough for the government to give mixed messages and cause unnecessary confusion.
"Labour is clear – we need certainty, stability and a Brexit plan that puts jobs and the economy first," he said.
You can share this story on social media: