Cameron: A political obituary… PM leaves a legacy of failure and claims of pig headedness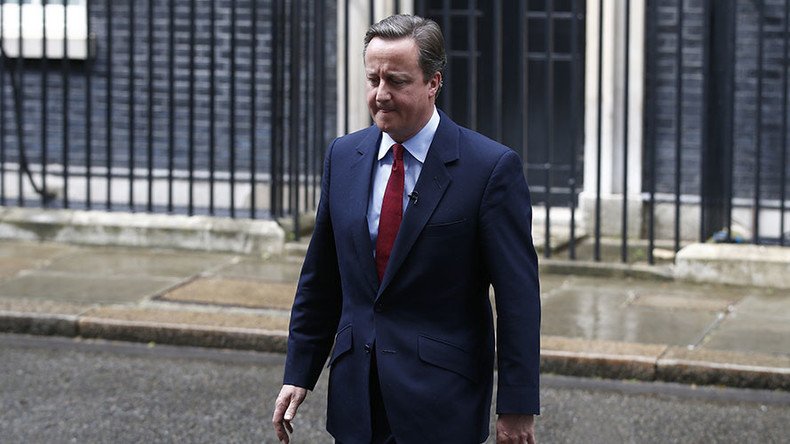 As David Cameron ties up the loose ends at 10 Downing Street before his long-serving Home Secretary Theresa May moves in, RT reviews the legacy of the man who put the Conservatives back in power, and some say brought Britain to the brink.
Brexit: The accidental referendum
Cameron's attempts to placate the Euroskeptics in his own Tory ranks by holding a referendum on Britain's membership in the European Union backfired spectacularly, costing him his job and triggering months of political and economic instability.
His negotiations with the EU in the run up to the June 23 vote failed to secure a convincing mandate for remaining in the bloc, splitting the UK into bitter pro and anti-EU camps and threatening the break-up of the kingdom itself.
As soon as the Leave camp declared victory, Cameron promptly resigned.
"I was absolutely clear about my belief that Britain is stronger, safer and better off inside the EU. I made clear the referendum was about this, and this alone, not the future of any single politician, including myself.
"But the British people made a different decision to take a different path. As such I think the country requires fresh leadership to take it in this direction."
In the meantime, incidents involving racist hate crime rose by 500 percent, the pound collapsed to a 31-year low, and firms such as EasyJet and Vodafone are considering moving their HQs out of Britain.
False economy
Cameron and Co. came to power in 2010 in coalition with the Liberal Democrats after promising to fix Britain's budget deficit of more than 10 percent and public debt in excess of £1 trillion.
Together with his Oxford University friend and ally, Chancellor George Osborne, Cameron implemented an emergency budget to slash welfare spending and investment in healthcare.
"Already we have cut the deficit in half, and we have set out clear steps to finish the job by 2018," Cameron claimed in March this year.
However, in absolute terms, the deficit didn't fall much further than a third.
National debt, in turn, is now at 90 percent of gross domestic product (GDP), reaching £1.6 trillion.
Despite the failure to deliver on his promises, Cameron and Osborne continued to pursue their politics of austerity, cutting the safety net from under millions of vulnerable people in Britain.
Austerity Britain
Many will remember Cameron's premiership as the time in which living conditions in Britain worsened considerably.
Housing crisis
The number of people sleeping rough in England grew by nearly a third in the last year. Food bank dependency has likewise seen a 19 percent year-on-year rise.
Meanwhile, the stock of affordable housing is at an all-time low. Nine million people in Britain now rent from private landlords and four in every 10 tenants fear they will never own their own home.
To address these fears, Cameron expanded the Right to Buy scheme, which allows social tenants to buy their council homes at a small discount. However, new council homes have not been built at the speed necessary to replace the 1.9 million homes sold in England alone.
Labour leader Jeremy Corbyn blamed Cameron for "overseeing a very damaging housing crisis; it's pricing out people from buying; it's not providing enough social housing, therefore many people are forced to rely on the private rented sector."
Bedroom Tax
At the same time, the government introduced the infamous "bedroom tax," which saw benefit claimants sanctioned for each "under occupied" room in their council home. Disabled people and care providers found themselves unfairly punished under the socially regressive policy. After a long legal battle, the policy was declared unlawful in January of 2016.
Disability benefit cuts
Despite Cameron's motto, "we are all in this together," it was clear from day one that the PM expected some groups in society to sacrifice more than others. Cuts to the welfare system saw a series of disability benefits scrapped. The cuts were described as "harmful" by disability rights charity Scope.
Cameron's government was also responsible for introducing harsher work capability assessments, introduced so arbitrarily that more than 2,300 people were found to have died between 2011 and 2014 after being declared "fit for work."
NHS chaos
One of Cameron's electoral promises back in 2010 was "not to cut the NHS," Britain's deeply beloved public health service. Six years on, the system's finances are in a mess and emergency room waiting times are longer than ever.
According to Trades Union Congress (TUC) senior policy officer Matt Dykes: "Just over two percent of patients waited over hours for treatment in A&E [accident and emergency] in early 2010." In 2015, the number had risen to just around 6 percent.
The finances of most NHS trusts took a tumble, with their £600 million surplus in 2010 turning into a deficit close to £1 billion in just over five years. Dykes blamed the "massive reduction in tariffs" paid by the government to hospitals.
A quarter of the treatments provided by the NHS saw government-financing slashed by 40 percent, in some cases reaching 70 percent.
Libya misadventure
In March of 2016, Cameron admitted that the British intervention in Libya of 2011 had "not been sufficient." The North African state has collapsed into turmoil since NATO forces helped topple Muammar Gaddafi. Even Cameron's ally US President Barack Obama branded the PM's Libya mission a "sh** show."
Still, Cameron recently defended his decisions concerning Libya, which has since become a hotbed for rival militias and a recruiting ground for Islamic State (IS, formerly ISIS/ISIL).
"Gaddafi was bearing down on people in Benghazi and threatening to shoot his own people like rats," Cameron told a Commons liaisons committee inquiry.
"An international coalition came together to protect those people and to help the Libyan people, who then got rid of Gaddafi. And they had an opportunity to build what they said they wanted. We tried to do it in a way that was more remote than what had happened in Iraq. On this occasion, clearly it didn't work."
Tuition fees
Right at the start of his coalition government, Cameron introduced a bill tripling university tuition fees in England and Wales from £3,000 per year to £9,000. The measure was met by months of mass protest and student occupations across the country.
The Tories argued the move would better fund higher education, make British universities more accessible to foreign students and make the system fairer for everyone. In reality, the number of university applicants fell 9 percent in 2012 – the same year the higher fees were introduced.
By 2014, the Department for Business, Innovation and Skills (BIS) estimated that around 45 percent of the money lent for tuition fees would never be recovered.
This April, a leaked private memo from Number 10 revealed that Cameron's promise to double the number of disadvantaged youths going to university by 2020 would never be fulfilled.
"BIS think we will never achieve this from the established sector alone (probably because of a combination of high entry requirements and reluctance to expand too fast) – and the extra boost in access could come from growth by alternative providers," it read.
#PigGate
One scandal Cameron will not want to color his legacy, however, is #PigGate.
Social media went delirious with unproven tales of the premier's wayward youth, as retold by former Tory deputy chairman Michael Ashcroft.
No comment was ever issued by Number 10 concerning the involvement of "a private part of [Cameron's] anatomy" and a dead pig's head. The story has nevertheless endured.
You can share this story on social media: