Police taser man attacking people outside London mosque with 'shoehorn' (VIDEO)
Published time: 21 Jun, 2017 11:14
Edited time: 22 Jun, 2017 08:18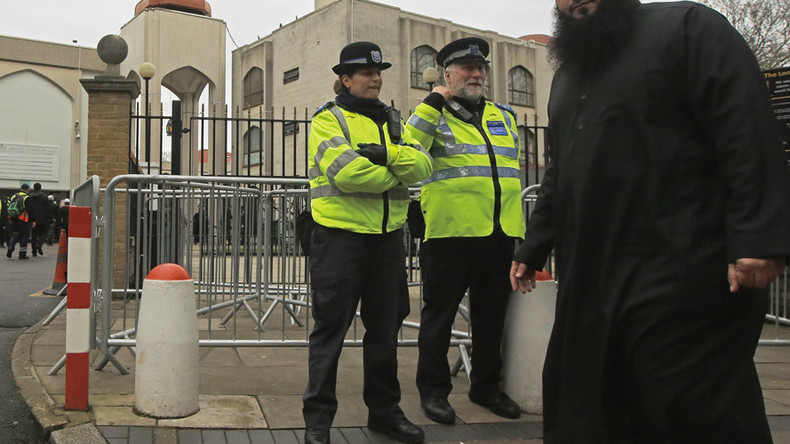 A man was tased by police after attacking people at a mosque in central London with a shoehorn on Tuesday night. The incident is not being treated as terrorism.
The incident took place at Regent's Park mosque around 1:20am local time, when police were called to deal with a man waving "an item" at worshippers during Ramadan taraweeh prayers.
Witness Maria Idrissi said on Twitter the attacker "went into Regent's Park mosque during taraweeh and tried to attack a man but luckily [was] stopped by police and detained outside."
"This ain't gonna stop is it.. police had to teaser [sic] him down," a witness by the Twitter username of @RafatPlayDirty wrote.
"Everyone is fine this time the security team done [sic] an exceptional job and credit to the police came within a minute," she added after the incident was under control.
The unnamed man was shot with 50,000 volts while officers pushed worshippers back. He was arrested on suspicion of affray. Later the man was placed in the back of a police van and sent to a central London police station.
No others were injured in the incident.
"The item being waved was found to be a shoehorn taken from the mosque," a Metropolitan Police spokesman said.
"The incident is not being treated as terrorism-related at this time. Officers are keeping an open mind regarding any motivation for the incident."
The event follows Monday evening's suspected terrorist attack outside a Finsbury Park mosque, in North London.

Darren Osborne, a 47-year-old father-of-four from Cardiff, Wales, is being held by police, suspected of ploughed a white hire van into a group of Muslim worshippers.
One man died at the scene and 10 were sent to hospital with serious injuries. The event is being treated as a terrorist attack.
In the wake of the terrorist violence seen in London and Manchester over the past months, Metropolitan Police Commissioner Cressida Dick had called for an additional 1,867 officers to be equipped with Tasers in the capital.