Finsbury Park suspect Darren Osborne was 'troubled' but 'no terrorist,' family claims
Published time: 20 Jun, 2017 10:28
Edited time: 22 Jun, 2017 08:16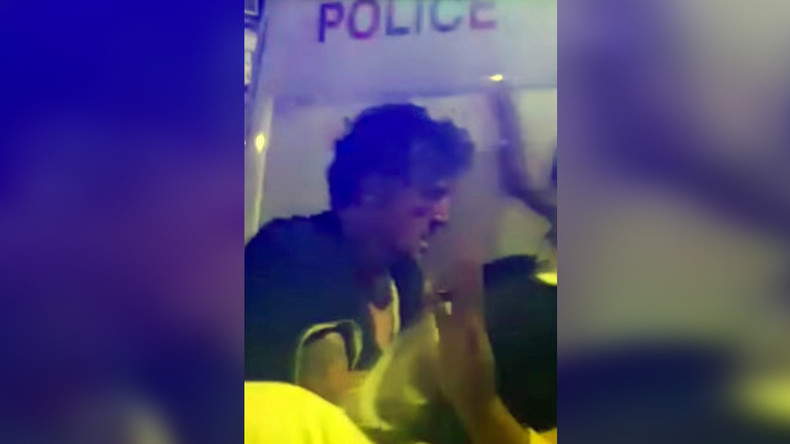 Darren Osborne, who is suspected of deliberately ploughing a hire van into a crowd of Muslims near Finsbury Park mosque in London on Sunday night was a "complex" and "troubled" man, but "no terrorist," according to his family.
Osborne, a 47-year-old father-of-four from Cardiff, Wales, is alleged to have shouted "I want to kill all Muslims - I did my bit," after a van he hired ploughed into a group of Muslim worshippers who had gathered to help an elderly man who had collapsed.
Mobile phone footage shows him being captured by the crowd, who attacked him as he screamed: "Kill me." He was eventually arrested and loaded into the back of a police van in handcuffs, waving to the gathered crowd.
Osborne was initially arrested for attempted murder and later further arrested for the commission, preparation or instigation of terrorism including murder and attempted murder.
Osborne is believed to have hired the van involved in the attack several days before driving to London.
Neighbors said he parked the van in a different street to his family home in a Cardiff suburb.
He was seen telephoning from the van late at night, and one neighbor said he noticed a man sleeping in the vehicle and reported it to the police, according to the Guardian.
'He is not a racist' - Osborne's family
The family of Osborne said he was beset by mental problems and had never expressed extremist views. He is alleged, however, to have expressed increasingly antagonistic views towards Muslims in the weeks since the London Bridge attack.
In a statement on behalf of Osborne's family, his nephew Ellis Osborne, 26, told Sky News: "We are massively shocked; it's unbelievable, it still hasn't really sunk in.
"We are devastated for the families, our hearts go out to the people who have been injured. It's madness. It is obviously sheer madness."
Osborne's mother, Christine, 72, said she was living "every mother's worst nightmare" and screamed when she saw her son on TV.
She told the Sun: "My son is no terrorist - he's just a man with problems and I don't know how to cope with all this. He's never spoken to me about terror attacks or talked about 'bloody Muslims' - never in a million years, and that's the truth."
There is no immediate evidence that Osborne was an active member of a far-right organization. He was not known to security services, according to Ben Wallace, the security minister.
"What I can say on this case is, this individual, so far as we know at the moment, was not known to us, but we are aware of a rise in the far right."
Several far right group are active in Osborne's home region, including the South Wales National Front. Its leader, Adam Lloyd, denies any connection with the attacker.
"The man in question is not known to any of us here in South Wales National Front … Although we will never condone or accept these kind of violent attacks here in SWNF, anyone with a right mind can see this is not a terrorist attack but a revenge attack."
Osborne 'cursed Muslims' in pub rant before attack
Police have been searching a residential address in Pentwyn, a suburb in the northeast of Cardiff, where Osborne has been listed as living.
His neighbor Khadijeh Sherizi, who described herself as a white Muslim, said she could not believe Osborne was being investigated for carrying out an attack on Muslim worshippers. Sherazi told the Guardian she had never had any problems with Osborne or his family until this weekend, when he called her son an "inbred."
Sherazi's son, Nadem, 12, said: "I was on my bike and he just came up to me and said 'inbred.' Just out there [on the road]. It was just a normal voice."
Another of Osborne's neighbours suggested he had not been a popular figure.
"He had lived on the estate for a few years. He's always been a complete c*** but this is really surprising," the man told Metro.
Over the weekend, Osborne had also reportedly been thrown out of a local pub for getting drunk, "cursing Muslims and saying he would do some damage."
Osborne was born in Singapore but grew up in Weston-super-Mare, Somerset, where he attended Broadoak Mathematics and Computing College.
He moved to Cardiff with his partner and their four children, aged between five and 16. The couple are said to have recently split. Osborne is believed to have been an unemployed former barman who was recently living in a tent in woodland.
Metropolitan Police Commissioner Cressida Dick said Monday's incident was "quite clearly an attack on Muslims" and that the community would see more police, including armed officers, in the area, "particularly around religious establishments" during Ramadan.
The van rampage came a fortnight after an attack at London Bridge by three Islamists and within a month of the Manchester arena suicide bombing, prompting fears of "tit for tat" terrorism.