At least 1 dead at the scene, 10 injured in London's Finsbury Park van attack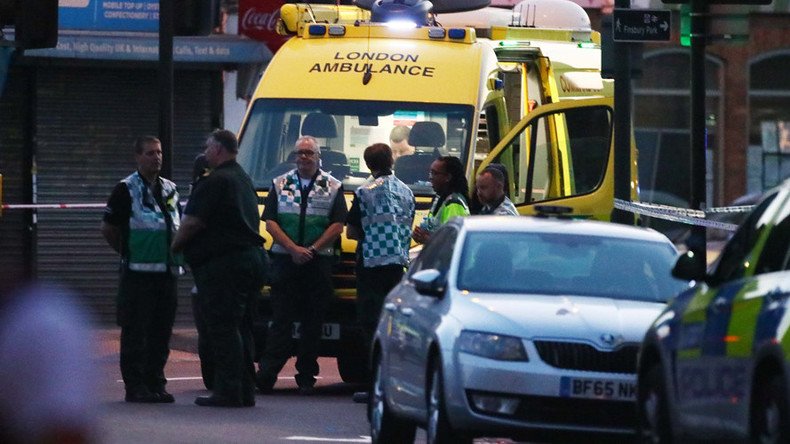 Police have arrested the 48-year-old driver of the van who ploughed into a crowd of pedestrians in north London, next to a Muslim center and close to a mosque. One man was pronounced dead at the scene and 10 people were injured, with eight of them being taken to the hospital.
19 June 2017

16:22 GMT

Police have named the Finsbury Park mosque terrorist as Darren Osborne, a 47-year-old father of four, from Cardiff, Wales.

His family are thought to be based in Weston-super-Mare.

Speaking to the Guardian, neighbor Dave Ashford, 52, said: "Someone called me and said it was him and I said 'It can't be'. Then I saw the picture on the news and said, it's him.'"

Pauline Tibbs, 48, said: "The police have been back and forwarth here all day. It's a terrible shock. I've seen him walking in the street but never spoken to him. He seemed normal enough. He has lived here a couple of years and kept himself to himself."

15:52 GMT

The man arrested over the Finsbury Park attack is now being held on suspicion of terrorism offences, Scotland Yard has said.

He was initially arrested on suspicion of attempted murder and was subsequently further arrested for the "commission, preparation or instigation of terrorism including murder and attempted murder."

Counter-terrorism police are appealing for witnesses following the attack on Seven Sisters Road in north London.

Police say they believe the suspect acted alone "but we are of course investigating all the circumstances leading up to the attack."

Searches are being carried out at a residential address in the Cardiff area, police said.

There is a discrepancy in the age of the man arrested. The police previously said he was 48 years old and have now corrected that to 47.

Neither the identity of the man or his motives have been revealed.

A video that emerged from Finsbury Park on Monday morning shows a white man near a police van.

Eyewitness Abdulrahman Saleh Alamoudi, who got the suspect on the ground and held him, told BuzzFeed the man "was screaming 'I'm gonna kill all Muslims.'"

15:02 GMT

The National Front in Wales has denied any connection with the Finsbury Park terrorist. The attacker hired the van he used to plough through Muslim worshippers from a company in Pontyclun in south Wales.

The Welsh regional organizer of the far right group, Adam Lloyd, told the Guardian the man in question is not known to them.

Lloyd said: "Although we will never condone or accept this kind of violent attacks here in SWNF, anyone with a right mind can see this is not a terrorist attack but a revenge attack."

He added: "Incidents like this are only going to increase as two different cultures clash thanks to the failed multicultural and multiracial experiment forced on us by successive corrupt governments."

14:39 GMT

East London mosque was evacuated on Monday afternoon amid reports of a suspicious package and a bomb threat. It has now been given the all clear after police investigated.

14:14 GMT

Mohammed Mahmoud, who is Imam at the Muslim Welfare Centre, has described how he protected the attacker from an angry mob after he was pinned down at the scene of the terrorist attack.

Speaking to reporters, Mahmoud said he had just finished prayers when a "panicked" man ran in to say what was happening outside. He arrived at the scene just minutes after the attack and found the assailant on the ground, he said.

"[The attacker] had been restrained by three people. We found a group of people quickly started to collect around the assailant. And some tried to hit him, either kicks or punches.

"By God's grace we managed to surround him and to protect him from any harm. We stopped all forms of attack and abuse towards him that were coming from every angle.

"A police van drove past so we flagged them down, we told them the situation. There's a man, he's restrained. He mowed down a group of people and there's a mob attempting to hurt him."

Mahmoud added: "[The attacker] seemed calmed. I just heard he said 'I did my bit.' It is a tragic and barbaric terrorist attack."

He said his community is a "calm community, not known for their violence. Our mosques are incredibly peaceful. I can assure you we will do our utmost to calm down ill intentions."

13:49 GMT

Prime Minister Theresa May and Labour leader Jeremy Corbyn experienced strikingly different receptions when they visited Finsbury earlier.

The Tory PM was heckled as she left the local mosque, where she had been visiting following last night's attack.

One man was heard shouting "how come you were so quick today?" - an apparent reference to her failure to immediately visit victims of the Grenfell Tower fire.

Another man yelled: "Mrs May, have you got a personal taxi today?"

By contrast, Corbyn, who is the local MP, was greeted with cheers as he entered the mosque.

13:18 GMT

Labour leader Jeremy Corbyn has attended afternoon prayers at Finsbury Park Mosque in solidarity with the local Muslim community.

13:02 GMT

In a statement, Metropolitan Police Commissioner Cressida Dick said:

"This was quite clearly an attack on Muslims. We treat this as a terrorist attack, and we in the Met are as shocked as anybody in this local community or across the country at what has happened."

She added: "We take all forms of hate crime and violent extremism incredibly seriously, and wherever we can we seek to prevent attacks."

Dick said police officers responded to the terrorist attack at Finsbury Park within a minute.

London Mayor Sadiq Khan said Londoners will see an increased number of visible officers around mosques in the coming week. He said the terrorist attack at Finsbury Park was clearly an "attack on Muslims."

He urged anyone who experiences hate crime to report it to police.

"There will be a zero tolerance policy towards hate crime. Please report it to police. Do not think it is too trivial."

He added: "These have been a terrible few weeks for London, unprecedented in recent times."

Khan also urged the government not to cut police funding in the capital.