Hung Parliament: 'Disastrous' night for Theresa May as snap election gamble backfires (VIDEO)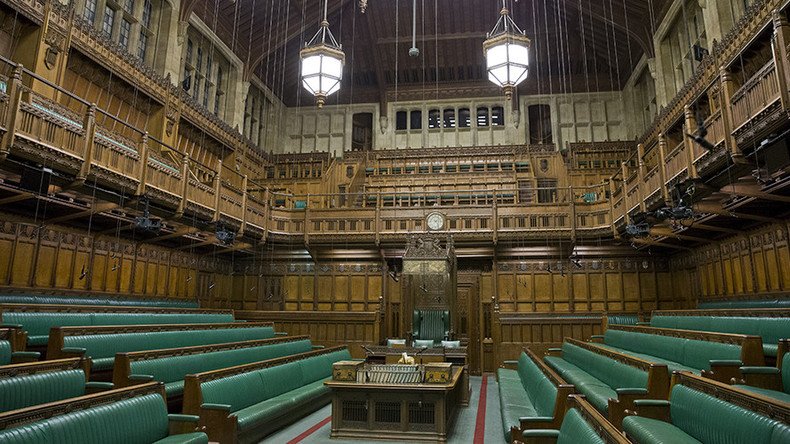 The 2017 general election will go down among the worst mistake in British political history, as Prime Minister Theresa May's gamble saw her lose her majority in the face of unexpected Labour gains.
May insisted she would not resign, instead she has struck a deal with the northern Irish Democratic Unionist Party and is said to meet the Queen and request to form a new government at 12.30h BST.
Scottish National Party (SNP) leader Nicola Sturgeon called the night as "disastrous" for the Conservative leader. Labour leader Jeremy Corbyn demanded the PM steps down
In a first statement on the night's results, a visibly shaken May insisted that "at this time, more than anything else this country needs a period of stability."
"If the Conservative Party has won the most seats and probably the most votes then it will be incumbent on us to ensure that we have that period of stability and that is exactly what we will do," she added after winning her Maidenhead seat.
But her election battle cry "strong and stable" had a ring of irony by the end of the night, as her 253 majority in the House of Commons was whittled away by a Labour surge.
A total of six Tory ministers lost their seats in the fiasco, including the rumored next Tory Brexit negotiator, Ben Gummer, who saw his Ipswitch seat go to Labour with a 10.3 point swing.
Break - PM has no intention of resigning - working to form a govt based on being largest party in seats and votes

— Laura Kuenssberg (@bbclaurak) 9 June 2017
Other Tory losers include Financial Secretary to the Treasury Jane Ellison; Parliamentary Under-Secretary of State for International Development James Wharton; Minister of State for Housing and Planning Gavin Barwell; Minister for Civil Society Rob Wilson; and Parliamentary Under Secretary of State for Public Health & Innovation Nicola Blackwood.
Home Secretary Amber Rudd also got a scare in the course of the counting in her constituency of Hastings & Rye, winning by an excruciatingly close margin of just over 300 votes.
But the night also proved disastrous for the SNP, which lost nearly half of its MPs, including former leader Alex Salmond and Westminster leader Angus Robertson.
Most of the party's losses went to the Tories, which prompted pundits to suggest the Scottish Conservatives "saved" Theresa May.
The result is baffling pundits, because Scotland voted predominantly to Remain in last year's Brexit referendum, and the Tories ran on a clear 'hard Brexit' agenda.
For Tim Farron's Liberal Democrats the night was a bit of a mixed bag. The centrist party increased its vote share, going from nine MPs to 12, but losing its former leader Nick Clegg along the way. The party did reclaim some seats in Scotland too, snatching them back from the SNP, and won back Sir Vince Cable's seat in Twickenham.
But the night's winner was undoubtedly Jeremy Corbyn's Labour, which in spite of not claiming overall victory, made impressive and unexpected strides at the ballot box.
Under the socialist's direction the party had its highest number of votes since Tony Blair's 2001 election victory. The party had won 31 extra seats by the early hours, including several long-held Conservative posts.
The success of Corbyn's campaign also granted some of his opponents within the party an unexpected electoral victory. John Woodcock MP, who was predicted to lose his Barrow and Furness constituency, held the seat with a narrow 209 vote margin. After running an openly anti-Corbyn campaign, the MP responded to the question of why he had won by saying: "I have no idea."
But the good results for anti-Corbyn Labour MPs prompted many to call for the rapid approval of deselection processes by the party.
"Deselections are now a priority given the Corbyn surge. Let us remove the dead weight of history," author Alex Williams wrote on Twitter.
"John Woodcock, the anti-Corbyn, election-throwing MP, is back in thanks to the Corbyn surge. Deselections. Soon, sooner, soonest," added Richard Seymour, author of 'Corbyn: The Strange Rebirth of Radical Politics.'
John Woodcock, the anti-Corbyn, election-throwing MP, is back in thanks to the Corbyn surge. Deselections. Soon, sooner, soonest. https://t.co/Zn82mbHjoD

— Richard Seymour (@leninology) 9 June 2017
The Greens held their only seat in Brighton Pavilion with party co-leader Caroline Lucas.
A hung parliament could see Jeremy Corbyn appealing to smaller anti-austerity parties to support his bid for Downing Street. For now, the ball is in the Tories' court.
You can share this story on social media: