#ProgressiveAlliance or #CoalitionOfChaos? What a Corbyn government might look like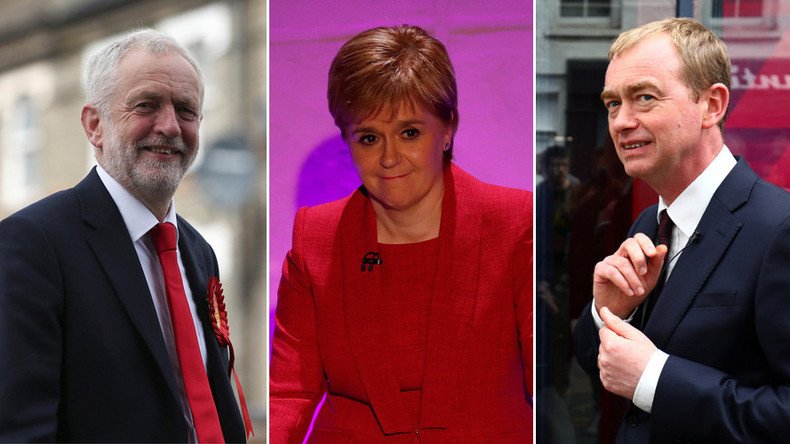 The Conservatives will not win the landslide victory they hoped for and Labour won't secure the 326 parliamentary seats they need to form a government. But minority parties could strike a deal with Jeremy Corbyn to push the Tories out of office.
Such an eventuality has been called a Progressive Alliance by its supporters and a Coalition of Chaos by its detractors.
But could a cross-party alliance form the next British government
Speaking about her party's results, Scottish National Party (SNP) leader Nicola Sturgeon said she would be open to a progressive alliance that would end Conservative rule.
Exit polls gave Theresa May's an underwhelming result, with a projected 314 seats (a 17 seat loss), against Labour's expected 266 (a 34 seat win). The night's results increasingly showed the projection to be pretty accurate, as a hung parliament became more and more likely.
The Conservatives could count on the support of the Northern Irish Democratic Unionist Party (DUP), which had 10 seats in the early hours of Friday. But such a coalition would still be two seats short of reaching the 326 goal.
But Labour too would find it hard to form a government, as its expected wins would still not hold, even with the support of anti-austerity parties such as the Greens, Sinn Fein, Plaid Cymru and the SNP.
318 Tory MPs (likely) + 10 DUP = likely governing arrangement. Not great for Britain or #Brexit but it's basis for passing legislation

— Tim Montgomerie ن (@montie) 9 June 2017
Labour projected seats of 266 could be bolstered by Sinn Fein's 7, Plaid Cymru's 3, SNP's 33 and the Green's expected 1 in Brighton Pavilion. But here too the result would jointly reach a mere 310 - 16 short of a majority in the House of Commons.
It would seem the Liberal Democrats once again hold the key to the next British government, with 10 confirmed seats and one more expected in the course of the night.
Leader Tim Farron, and other senior Lib Dems, seem unenthusiastic about a new blue-yellow coalition.
Former Lib Dem leader Ming Campbell told the BBC early in the night that the party would make "no pact, no deal, no coalition" with either side.
"I find it very, very difficult to see how Tim Farron would be able to go back on what he's previously said and indeed to persuade the membership of the Liberal Democrats that a coalition would be a good idea from our point of view," he said.
"Our experience after the last coalition [is] the major party gets the credit for everything that is done and the junior party takes the blame for the things the people don't like."
Shortly after polling stations closed, Green Party co-leader, and the party's only MP, Caroline Lucas, tweeted she would not support a Tory government.
Commenting on the exit polls, she wrote: "Hardly dare hope this is right. To be clear, Greens will *never* support a Tory government."
Labour's Shadow Foreign Secretary Emily Thornberry said ahead of the election: "If we end up in a position where we are in a minority, we will go ahead [alone] and we will put forward a Queen's Speech and a Budget.
"If people want to vote for it, then good. If they don't want to vote for it, they are going to have to go back and speak to their constituents and explain to them why it is that we have a Tory government instead. If we are the largest party we go ahead - no deals - with our manifesto, our Budget and our Queen's Speech."
You can share this story on social media: