Corbyn 'open' to #indyref2 talks as Sturgeon launches SNP manifesto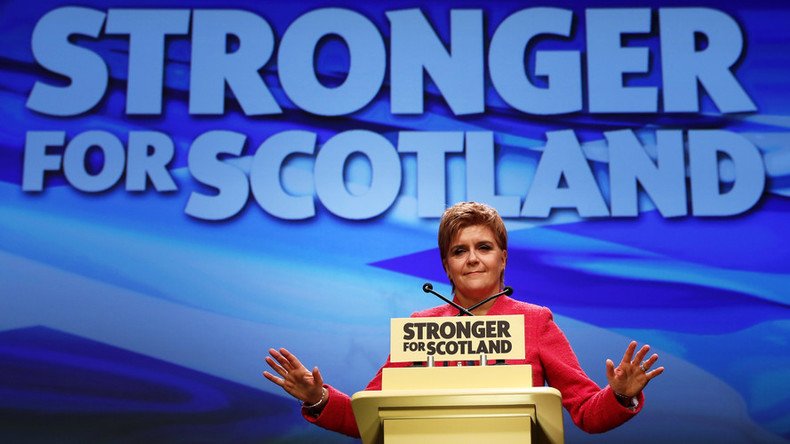 Launching the Scottish National Party (SNP) election manifesto on Tuesday, First Minister Nicola Sturgeon repeated her call for a second independence referendum. Labour leader Jeremy Corbyn says he is open to talks if he becomes prime minister.
The Scottish Parliament must seek permission from Westminster for a legally-binding vote to be held, which Sturgeon wants to take place between Autumn 2018 and Spring 2019.
However, Tory Prime Minister Theresa May has repeatedly voiced her opposition to Sturgeon's plan, saying "now is not the time" for a repeat of the September 2014 referendum, as all parties should be focusing on getting the best Brexit deal for the UK.
Corbyn has also spoken out against such a referendum, saying it would lead to "turbo-charged austerity," while the Labour manifesto describes it as "unwanted and unnecessary."
On Monday, the Labour leader seemed to relax his stance, claiming he would be "open to discussions." It echoes comments earlier this year, in which Corbyn said another vote would be "absolutely fine."
"I'll obviously open discussions with the Government in Scotland and listen very carefully to what the Scottish Parliament says," Corbyn said during an interview with Bauer and Global radio stations.
"I would ask them to think very carefully about it and suggest it would be much better to have this question dealt with at the conclusion of what are very serious and very important Brexit negotiations."
The Conservatives, meanwhile, have flatly rejected holding talks for another referendum before the terms of Brexit are spelled out and a transitional agreement between the UK and EU has been put in place.
A majority (55 percent) voted against independence in 2014.
Corbyn's openness to talks with Holyrood could help him into Downing Street if there is not a decisive winner on June 9. Sturgeon confirmed in an interview on Monday that she would seek a "progressive alliance" with the Labour Party if there is a hung parliament.
Although she said the Labour leader is unfit to lead the country, Sturgeon suggested she would prop him up in government in order to get as much as her manifesto implemented as possible.
PM May and Scottish Conservative leader Ruth Davidson said the remarks are "the strongest evidence yet" that the SNP and Labour are working together towards a post-election "sweetheart deal."
"Nicola Sturgeon has said she'd put Jeremy Corbyn into Number 10.
"Now Jeremy Corbyn says he is happy to 'open discussions' with her about a second referendum.
"Labour voters in Scotland now know that Jeremy Corbyn would sell them down the river," Davidson said, according to the Telegraph.
Davidson, who has staunchly opposed another independence referendum and accused Sturgeon of turning against the Scottish people's will by seeking a mandate for a new one, said: "This might suit the two of them, but it would be a disaster for Scotland – dragging us back to more division just at the moment when we need to move on, together."
In response, Scottish Labour urged Corbyn to debunk the claims.
"There will be no deals. There will be no alliance. We're fighting this election to win," Labour said in a statement.
You can share this story on social media: