Jeremy Corbyn's meteoric rise could be Theresa May's undoing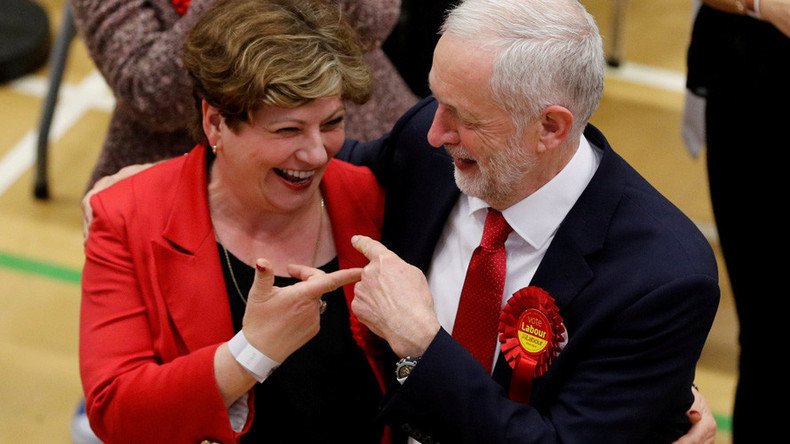 Labour leader Jeremy Corbyn has confounded his critics by turning a 24 point Conservative lead in the polls into a hung parliament. His startling turnaround has already been hailed as one of Labour's biggest victories in years.
Corbyn was laughed at by his own MPs, ridiculed by former Prime Minister David Cameron and vilified by rival Theresa May.
Since his first election to the Labour leadership in September 2015, the majority of the UK's press has routinely dismissed the Islington North MP as unelectable, incompetent and unpatriotic.
Over the past two years he has endured a vote of no confidence, fought a successful re-election campaign, battled rebellions within his own partly and withstood embarrassing leaks to the media.
In short, Corbyn's mettle has been tested to the limits of most politicians, and he has not been found lacking.
Now it looks like the Leader of Her Majesty's Most Loyal Opposition is the strongest politician in the country with a hitherto unseen momentum behind him.
A Labour source told the Guardian: "If [the] exit poll is correct, Labour has had biggest increase in popular support during campaign by any party in British political history."
While Labour will not win more votes than the Conservatives, it has already won 30 more than it had before the election was called.
The Tories meanwhile have lost 12 seats, a damning verdict on a snap election some Conservative supporters are belatedly calling a mistake.
Corbyn's achievement is all the more remarkable given his perceived lack of support from the Guardian, Britain's only left-leaning broadsheet.
Shortly after the snap election was called, Guardian acolyte Polly Toynbee warned the Labour Party faced "annihilation" and launched a scathing attack on Corbyn.
"Was ever there a more crassly inept politician than Jeremy Corbyn, whose every impulse is to make the wrong call on everything?" she asked.
What Toynbee did not count on was the popularity of Labour's manifesto, the surge in young voters and the impact of Bernie Sanders-style campaigning.
Shortly after Labour's manifesto was leaked to the press, opinion polls found the policies were extremely popular with the electorate.
BritainThinks research with undecided voters in six key constituencies found overwhelming support for raising income tax on the wealthiest by 5 percent in order to better fund health and social care.
An online survey conducted by the Labour-leaning Daily Mirror also found overwhelming support for another key policy: renationalizing the railways. Some 52 percent of voters backed the move, branded by Spectator magazine as 'Marxist.'
Young voters are being touted as another reason for Labour's landmark success and the Tories dismal performance.
Some estimates put the turnout among 18-24 year olds as high as 74 percent, significantly higher than the 66 percent turnout in the last election.
May's self-characterization as a "bloody difficult woman," willing to walk away from Brexit negotiations with no deal, likely contributed to the youths' revolt against the established order. Young people voted overwhelming to remain in the EU last June.
Corbyn himself has thanked young people for their impact on Thursday's historic vote. Reflecting on the election result, Jeremy Corbyn told reporters: "Incredible result for the Labour Party because people voted for hope. Young people and old people all came together yesterday.
"A very high turnout, huge increase in the Labour vote and they did it because they want to see things done differently and they want hope in their lives."
Corbyn told Sky News that Labour is "ready to go everything we can to put our program into operation," and reiterated his call for Theresa May to quit.
There is also strong evidence Britain's youth has been energized by Corbyn's democratic socialist campaign in the same way US Senator Bernie Sanders electrified young Americans during the Democratic primaries last year.
Several key figures behind Sanders' grassroots campaign in the US have advised Labour and Momentum – the pro-Corbyn offshoot group – during this election. Claire Sandberg, a digital organizing director for Bernie Sanders, worked on the Labour campaign.
She told CNN earlier this week about the new skills she brought to the team.
"It's been especially exciting to bring techniques like deep canvassing - a research-backed voter contact method focused on listening and drawing out the person you're talking to - to key marginal seats where it will be critical to expand the electorate and even convince voters to cross party lines."
Further analysis will be required to understand Corbyn's appeal among first-time voters and older generations. But this much we know today: a man who was once the laughing stock of Commons is now one of the most powerful politicians in the country.
You can share this story on social media: