Is Britain heading for hung parliament? Poll suggesting Tories will lose majority hits pound
Published time: 31 May, 2017 11:06
Edited time: 2 Jun, 2017 09:04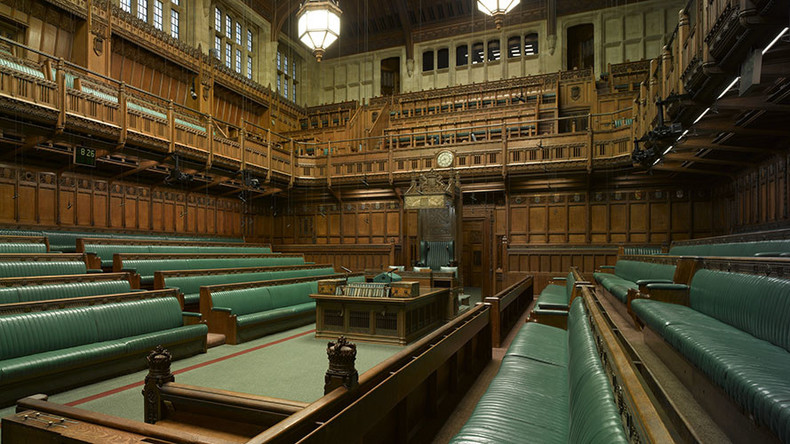 A shocking new poll shows Theresa May's Conservatives will lose their parliamentary majority. The prospect of a hung parliament, in which no party secures an overall majority, has panicked the markets and led to falls in the pound.
The latest YouGov survey for the Times shows the Tories could lose up to 20 seats and have the majority they won in 2015 wiped out, with Labour catching up and winning in an extra 28 constituencies.
With parties required to reach 326 seats in the House of Commons to establish a majority, the recent predictions point towards a hung parliament.
According to the constituency-by-constituency poll, on June 8 the Tories can expect a total of 310 seats – 16 short of a majority – while Labour would scoop 257.
Although the range of variation in the data is wide, it will still concern Theresa May's party, which on a good night could pick up 345 seats, but on a bad one plummet to 274.
May's gamble to call a snap election, on all accounts, could now backfire spectacularly.
"Oh come on, whatever your politics and opinion on the polls, it would be objectively hilarious if the result was a hung parliament," commentator Ellie Mae O'Hagan wrote on Twitter.
"Less than 3 weeks ago May averaged an 18pt lead. Today, at a briefing, [people] are discussing a hung parliament & when she'd resign. W-t-*," Chatham House fellow Matthew Goodwin echoed on social media.
YouGov predict a hung parliament. When Theresa May called the election, she expected a landslide. Labour can win next Thursday. pic.twitter.com/Sf7189OPT0

— George Aylett (@GeorgeAylett) 30 May 2017
Pound under pressure
The currency markets were not pleased with the poll results, just a week before the general election, with the pound slipping below $1.28 on Wednesday morning.
The prime minister's decision to call a snap election originally boosted the sterling, with the British currency rising from below $1.28 to over $1.29 in one day, and climbing as far as $1.30 in the following days.
However, with a Conservative majority now seriously in question the pound has wobbled.
"This is new territory - markets have been incredibly complacent until now and we might start to see investors price in a Labour win a lot more," financial broker ETX Capital's Neil Wilson told the BBC.
May herself received the news with skepticism, saying during a trip to Plymouth Fisheries: "The only poll that matters is the one that's going to take place on June 8 and then people will have a choice as to who they want to see as leader, who they want to see as prime minister taking this country forward in the future, me or [Labour leader] Jeremy Corbyn."