Theresa May waters down 'dementia tax' in humiliating Tory U-turn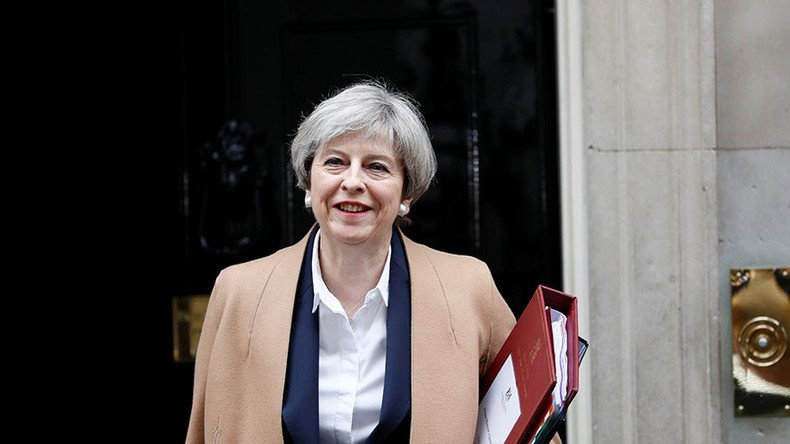 Prime Minister Theresa May has pulled an extraordinary U-turn by backing down from her "dementia tax" policy just four days after making it the center of her election manifesto.
May's change of heart, which came amid fierce protests and a slash in the Tories' lead over Labour in the polls, means the Conservatives will now set an "absolute limit" for what people will have to pay for social care. Just last Thursday, May threw out plans for a cap.
The Tories suffered from negative reactions to their social care plans over the weekend. The policy, dubbed the 'dementia tax,' would mean elderly people would have to pay for care in their own home if they had total assets of £100,000 or more.
May announced the humiliating U-turn at the launch of the Welsh Conservatives' manifesto in Wrexham on Monday, claiming she needed to clarify that there would be a cap because of attacks made by Jeremy Corbyn.
The Tory prime minister accused the Labour leader of making "fake claims" about the policy, alleging he had been "scaremongering" in the hope that he could "sneak over the line" by "falsely claiming families will lose their house over our social care policy."
"We have not changed the principles of the policies we set out in our manifesto," she claimed.
However, in confirming the U-turn, May vowed that the Tory plan will "include an absolute limit on the amount people have to pay for their care costs."
May has been barraging voters with the idea that she and her party are Britain's "strong and stable" option, but many people have been pointing out that pulling such a dramatic U-turn does not seem to reflect this mantra.
Corbyn slammed May in wake of her social care climbdown, tweeting: "You can't trust a word Theresa May says. This is a government in chaos and confusion."
Labour MP Angela Eagle tweeted: "If that's 'strong and stable leadership in the national interest' then I'm a banana."
Former Labour leader Ed Miliband also waded into the row, accusing May of lying. He tweeted: "This isn't just an incompetent non u-turn it's a lie. Nobody mentioned a cap because there wasn't going to be one."
Norman Lamb, a Liberal Democrat candidate, called May's move a "manifesto meltdown."
"This is not strong and stable. It's panic and u-turn," he tweeted.
Tories buy up Google adverts to stop 'dementia tax' searches
Over the weekend, it appeared as though the Tories were attempting to limit fallout from the 'dementia tax' by preventing people from reading about it.
READ MORE: Tory manifesto targets immigrants, free school lunches & elderly home care
According to the Independent, the party spent thousands of pounds to place ads at the top of Google searches for "dementia tax" that direct people to a special page on the Tory's website.
"The so-called 'dementia tax' – get the real facts" Google ad, which appears for anyone searching the term, reads: "Social care and your family: the truth about the Conservatives' plans."
Underneath the ad is an array of news stories written about the dementia tax, all of which are negative.
The dementia tax has been partly blamed for the Tories' shrinking lead over Labour, which has fallen into single figures since the Conservative manifesto was announced.
You can share this story on social media: