Today's Labour voters 'prefer Corbyn to Blair' as socialist tightens grip on party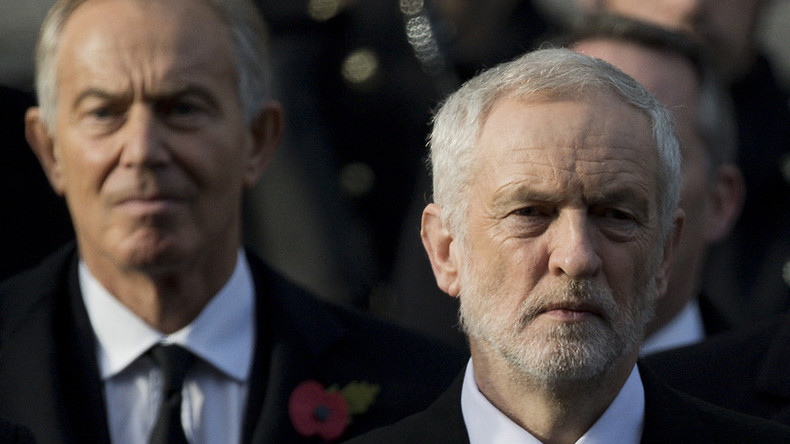 The Labour Party is now polling better under Jeremy Corbyn's leadership than it would have done under Tony Blair, a new survey has revealed.
According to pollsters GfK, 31 percent of the British electorate will be supporting Corbyn in the June 8 general elections, compared to only 23 percent that would rather have Blair back at the helm.
Other figures inside the party fared no better, with only 25 percent of those quizzed considering London Mayor Sadiq Khan to be a better alternative to Corbyn. A mere 24 percent would prefer to see former leader Ed Miliband or ex-Shadow Home Secretary Yvette Cooper in charge.
It was even worse for Blair among non-Labour voters, with 61 percent recoiling at the thought of voting for the party if he were still leader. Corbyn's number among the same sample was 53 percent.
Net satisfaction too was better under Corbyn than most other options. GfK's survey found that while Cooper was the least controversial candidate with -21, Corbyn drew a -22 rating when matched with Blair's disastrous -38 rate.
"These results cast doubt on how successful any political comeback by Tony Blair would be," GfK research director Keiran Pedley said.
"Much has been written on Corbyn's unpopularity but these results suggest that Tony Blair is even more unpopular with the public. His biggest problem in terms of political credibility is that he no longer has an obvious constituency in British politics. He is even divisive among Labour voters."
The poll's overall results also bode well for Corbyn's position in his party, as his leadership could now grant Labour a better election result than those achieved by Gordon Brown and Miliband in 2010 and 2015 respectively. After Labour's 13 years in government, Brown lost to the Conservatives in 2010 with a vote of 29 percent. In the following election, Miliband lost to David Cameron, collecting just over 30 percent of the vote.

If Corbyn secures the projected 31 percent of the vote – an estimated 171 seats in Parliament – he would have a stronger case for remaining leader of the Labour Party after June 8.
On Tuesday evening, former Labour frontbencher and Corbyn ally Clive Lewis once again insisted that the socialist should stay on at the top "whatever happens" in the general election.
"One of the things we've learnt after Ed Miliband and Gordon Brown is that when leaders of the party leave immediately, after it can be quite destabilizing," the one-time shadow business secretary said.
"So I think there's an argument that whatever happens, Jeremy Corbyn stays on and makes sure that he hands the Labour Party on in good order."
Last week, the Telegraph published a piece suggesting that 100 "moderate MPs" were preparing to leave the party if Corbyn refused to step down after a Tory landslide. Party officials rejected the claim, but rumors that Labour centrists are hoping to build a new, "progressive" party continue to circle Westminster.