Labour Party launches 'radical & responsible' election manifesto
Published time: 16 May, 2017 11:00
Edited time: 18 May, 2017 06:39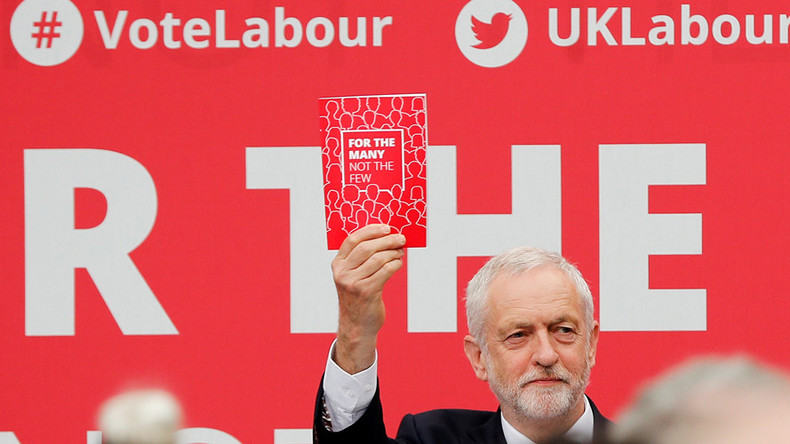 The election manifesto of Britain's Labour Party was officially launched on Tuesday morning, promising a series of investments in national infrastructure and higher taxes for the country's rich.
Labour leader Jeremy Corbyn called the policies "radical and responsible." The five-year program also sets out the party's terms and priorities for Brexit
"It's a program that will reverse our national priorities to put the interests of the many first. It will change our country, while managing within our means," Corbyn said at the launch event in Bradford.
"This is a program of hope. The Tory campaign, by contrast, is built on one word: fear," he said.
The socialist went on to describe the Tories by their old moniker – "the nasty party."
"The party of prejudice, the party of the rich, the party of the tight-fisted and the mean-spirited. I am confident that once the people of Britain have the chance to hear our promises and plans, they will decide now is the time for Labour," Corbyn added.
As part of its program, Labour has pledged to renationalize the Royal Mail, as well as key industries. On Tuesday morning, Shadow Chancellor John McDonnell confirmed that the water sector would be brought back under public control if Labour were to seize power.
"It's a significant intervention by the government, the Labour government that will be elected in June," McDonnell told BBC Radio 4's Today program.
"It's a significant intervention because that's what is needed. That's what's needed in terms of our infrastructure investment – because if we are going to compete in the global economy, we will have to invest in road and rail and new technology," he said.
Other policies include a new tax on those earning over £80,000 a year, as well as a tax hike for people earning salaries of £150,000 and more. For this one percent of the British population, a new 50p top tax rate would be applied.
Labour also plans to take the corporate tax to 26 percent by 2022, which is expected to generate £20 billion in revenue for the state coffers. A further "Robin Hood tax" would be imposed on financial transactions, with Labour experts suggesting another £26 billion could be raised from those proceeds.
A levy would also be set for businesses employing staff on larger pay packages, with 2.5 percent being applied to those on £330,000, and up to five percent for those on £550,000.
ITV's Robert Peston said Corbyn and his allies might have trouble selling the program to entrepreneurs and the private sector as a whole.
I'm reading Labour Manifesto. I'm liking what I'm seeing. Costed, actual policies for all Britons. Too much common sense.

— Stan Collymore (@StanCollymore) May 16, 2017
"The great debate about Labour's manifesto won't be about whether it is principled, ambitious, left-wing and a break with the great political consensus of the past 30 years that it is only possible to win elections from the centre-ground of politics. The manifesto is all those things," Peston wrote on his Facebook page.
"The controversy will be whether Labour's program would in practice harm the private sector, which ultimately pays for our public services – and to a significant increase in the indebtedness of a relatively highly indebted state, well beyond what Labour forecasts, believes and hopes," he added.
The money raised from the ambitious taxation plans would cover social investments such as scrapping the so-called "Bedroom Tax" and creating a new £12.5 billion-a-year childcare service.
No more free movement
However, Corbyn's supporters might not be as pleased by the Labour leader's comments on the end of free movement for EU citizens after Brexit.
Speaking to ITV's Julie Etchingham in an interview broadcast on Monday evening, Corbyn said British borders would no longer be open to European nationals, "but there will be managed migration and it will be fair."
Corbyn did, however, refuse to put a target on migration numbers for the coming five years.