'We have 4 weeks to ruin their party': Fighting talk as Labour launches battle bus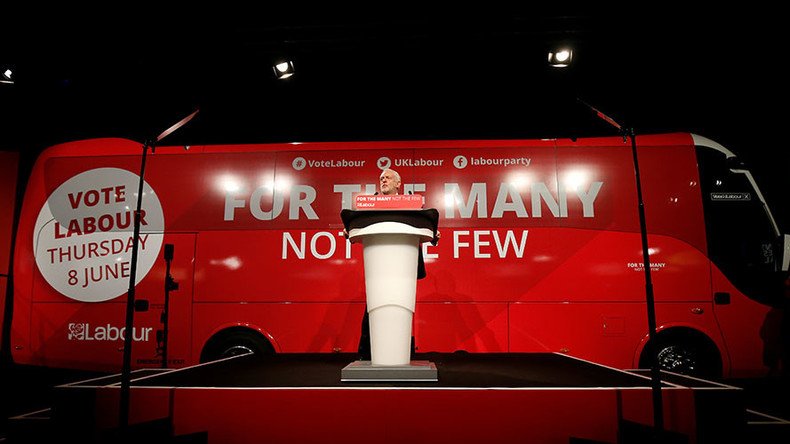 It was gloves off as the Labour Party officially launched its electoral campaign in Manchester on Tuesday, vowing to pummel the Tories to the ground.
Leader Jeremy Corbyn seemed unconcerned by the latest poll conducted by ICM for the Guardian newspaper, which shows the Tories leaping ahead by 22 points.
"The stakes are high. We know from last week's local elections how big the challenge is," Corbyn said in a somber tone, as he referred to a series of local elections that have seen his party losing in hundreds of wards.
However, instead of commiserating, Corbyn went on the attack, calling for voters to "turn our country around" and make a fairer society.
"We have four weeks to ruin their party. We have four weeks to have a chance to take our wealth back," he cried.
"We have four weeks to show what kind of country we are. We know that the people of Britain don't pass by on the other side. That is the principle we will take into government so that we can unlock every person's potential and everyone can make their best contribution to our society.
"We have four weeks to win and transform Britain for the many not the few."
Labour Brexit
And as part of this Britain "for the many," Corbyn's Labour Party wants to guarantee that Brexit negotiations are held with "jobs-first" in mind.
"A Brexit that safeguards the future of Britain's vital industries," he argued, adding that Labour's Brexit handlings would also protect human rights and provide for "an upgraded economy."
Corbyn's Brexit pledge comes after officials in both London and Brussels were caught in a heated exchange of disdainful and provocative comments. Among them, European Commission President Jean Claude Juncker's suggestion that the English language was "losing importance."
Social policies
Other policies to be officially outlined over the coming days echoed previous pledges made by the Labour Party since Corbyn became its leader.
READ MORE: Liberal pundits slam Corbyn pledge to carry on as Labour leader even if party loses election
"Today, I say to tax cheats, the rip-off bosses, the greedy bankers; enough is enough," he said on Tuesday before listing affordable home building, more funding for the National Health Service (NHS), and investment in state schools as the chore of the party's election manifesto.
He also promised "fair taxation" and "an end to rip-off privatization." Over the weekend, Corbyn announced that a governing Labour Party would exclude 95 percent of the population from a tax rise, while implementing a new tax bracket for those earning £80,000 to £150,000 a year.
Andy Burnham & Corrie actress support
The day also proved to be an opportunity for Corbyn to take a picture with the city's new mayor, former Labour MP Andy Burnham. Burnham was said to have spurned the victory rally Corbyn had originally organized for him last week – a claim the Manchester mayor denied, adding he was never meant to make an appearance.
"Andy will be a great mayor – but just think how much more he will be able to achieve if he is working with a Labour Government committed to the many not the few," Corbyn said as he unveiled the party's battle bus in the northern metropole.
Also showing their support for Corbyn on the day was soap opera Coronation Street actress Julie Hesmondhalgh, who delivered a rousing speech for the Labour leader.
"Let's turn this mass movement into a government, a country, a society that truly gives a toss about stuff," the soap star said.
"We have 30 days. Thirty days to turn this around. Thirty days to be on the right side of history. We have 30 days to create a more equal society... and 30 days to save our NHS."
You can share this story on social media: