Leadership at last? Corbyn attacks 'rigged system' in 1st election campaign speech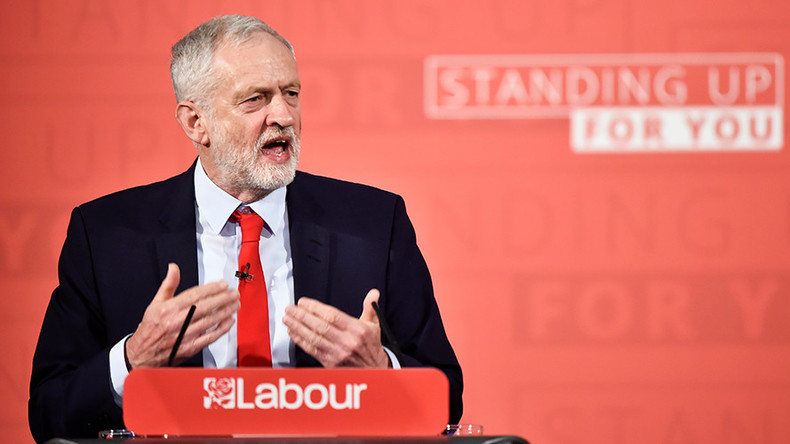 Labour leader Jeremy Corbyn's first speech of the 2017 general election campaign unsurprisingly met with widespread approval from supporters. But it was also well received by members of the public and press, who felt the socialist is finally showing some promise.
Corbyn, whose party is a double-digit figure behind the governing Conservatives in the latest polls, said the election result is not a "foregone conclusion."
Instead he challenged Prime Minister Theresa May, calling for an end to the "rigged system."
In a fiery speech, the 67-year-old also defied the mainstream media, which he believes has shown a consistent bias against him.
"They think there are rules in politics, which if you don't follow by doffing your cap to powerful people, accepting that things can't really change, then you can't win," Corbyn said.
"It is the establishment that complains I don't play the rules: by which they mean their rules. We can't win, they say, because we don't play their game.
"And in a sense, the establishment and their followers in the media are quite right. I don't play by their rules. And if a Labour government is elected on June 8, then we won't play by their rules either."
While his party does not fit the establishment's "cosy club" and is not "obsessed with the tittle-tattle of Westminster or Brussels," it is the party actually putting "the interests of the majority first," he said.
Corbyn's intervention was branded his "most cogent speech yet," "stonking" and "rousing."
Even usual critics seemed impressed with the much-maligned leader, with political commentator Jane Merrick arguing Corbyn had pulled out some "electoral swagger."
Good stuff from Corbyn's first speech of the #GE17 campaign. No wonder May doesn't want to debate him on live TV on the issues that matter.

— Matt Turner (@MattTurner4L) April 20, 2017
The BBC's Matthew Price said there was "fire in the belly of [Jeremy Corbyn]."
Theresa May is reportedly on her way to East Anglia. Political journalists like us are not invited. This will be shape of the campaign.

— Christopher Hope 📝 (@christopherhope) April 20, 2017
While some pointed out the speech lacked policies and mentions of Brexit, at least Corbyn invited the press and took questions.
"Regardless of whether you think he answered the media's questions or not, at least Jeremy Corbyn took them – unlike Theresa May last night," PoliticsHome editor Kevin Schofield tweeted.
"Jeremy Corbyn invited all the press to his campaign launch speech and took loads of Qs from journalists. Theresa May is avoiding scrutiny," added Daily Mirror political editor Jack Blanchard.
"Pattern emerging: Corbyn public speech. Questions from press. May heads to East Anglia. Journalists not invited," said Guardian deputy editor Paul Johnson.
You can share this story on social media: