What the pollsters are saying as first shots fired in General Election 2017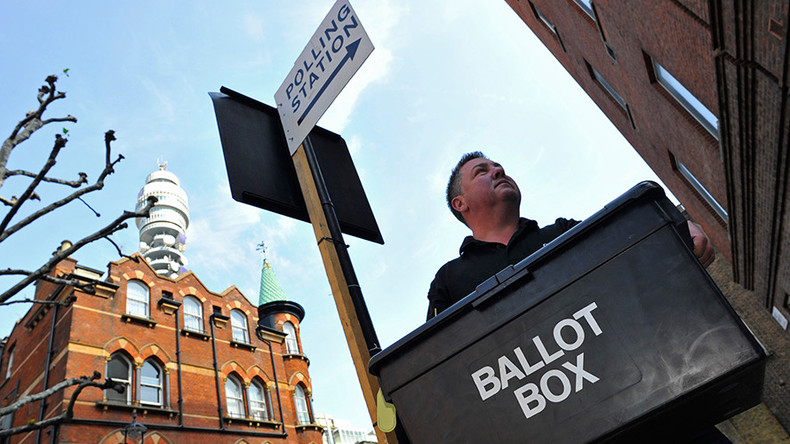 A vast Tory majority, Labour's annihilation, and a Liberal Democrat resurgence – just some of the forecasts among pollsters and analysts following UK Prime Minister Theresa May's shock call on Tuesday morning for a general election on June 8.
RT examines the likely outcomes for Britain's major and minor political players.
Conservatives
Theresa May's Tories could well seize traditional Labour heartlands in the north of England where the vote for Brexit dominated.
A poll by the Telegraph indicates the Tory majority could leap from just 17 seats to as many as 100 if these forays into opposition-held territory pay off.
The same poll suggested that London suburbs and the West Midlands could also back the Tory party.
However, Strathclyde University Professor John Curtice, who carried out the analysis, warned that "although Mrs May goes into this election with an enormous lead over Labour, she is not guaranteed to secure the overwhelming majority that she evidently hopes to secure."
"The Scottish National Party (SNP) remain dominant in Scotland and are likely to retain most of the 56 seats that they already hold.
Therefore any majority has to be acquired through winning seats in England & Wales alone."
Labour
A swing calculation suggests Labour, the main opposition party, could be severely damaged in the June 8 election.
Two of its MPs – Alan Johnson and Tom Blenkinsop – have already abandoned ship, saying they will not run in their seats.
Jeremy Corbyn's Labour could see its 232 seats won in 2015 reduced to a mere 157, the data published by the Independent suggests.
However, Matt Zarb-Cousin, who recently stepped down as a Labour spokesman, said the leadership had both predicted and prepared for a snap election.
Curtice's data suggests that up to 70 MPs could be routed in a possible Tory surge, and a poll of polls on voting intention by the BBC puts Labour at 25 percent against the Conservatives' 43 percent.
Labour has been riven by an internal conflict between the left-wing leadership and membership on one hand and the right-wing and liberal parliamentary party on the other.
A raft of resignations from the shadow cabinet in the wake of the Brexit referendum saw Corbyn forced to re-run his leadership election despite the substantial majority he gained in the first ballot. Far from undermining support for Corbyn, the Labour leader actually increased his majority.
Despite Labour's growth under Corbyn to become the biggest political party in western Europe, these internal issues could damage its ability to convince voters, or even potential coalition partners, to throw their lot in with Labour.
UKIP
Contrary to suggestions by its opponents that UKIP would fade into obscurity now that Brexit has been secured, the populist right-wing party has been a hub of activity.
Long-time financial backer Arron Banks quickly announced his intention to stand for Parliament and leader Paul Nuttall embraced the snap election decision.
Welsh assembly member Mark Reckless is set to defect back to the Conservatives and the party's only MP, Douglas Carswell, quit to become an independent in March.
Liberal Democrats
The Liberal Democrats are committed to opposing a so-called "hard Brexit."
In 'Remain' areas, possibly including the PM's own constituency in Maidenhead, which was 54 percent in favor of staying in the EU, they may well pull off a resurgence.
Data from the Changing Europe think tank already puts the party in second place in 'Remain' areas like Cheltenham, Cheadle, and Abingdon.
In pro-Brexit areas, it is predicted the party's strongly pro-EU stance will not gain them seats.
SNP
Early polls suggest that Nicola Sturgeon's Scottish nationalists will retain many of the 56 seats they won in Scotland in 2015. The Curtice analysis, however, indicates the SNP are only assured of winning 50 of the 59 seats in Scotland.
Scottish Conservative leader Ruth Davidson was even more disparaging, referring to the SNP as a "party going downhill."
Greens
The Green Party has called for a progressive alliance to oppose the Tories, writing to Labour's Jeremy Corbyn and the Lib Dem's Tim Farron.
While some commentators have suggested a pact, the Greens are so far the only party to make an actual move for coalition.
A comment piece by the party's sole MP, Caroline Lucas, and co-leader Jonathan Bartley said: "We understand that, in the immediate run-up to an election, signalling a willingness to work with other parties might be difficult but we hope you'll agree that the times we are living in require leaders to be courageous and visionary, to actively build a more positive politics."
4/ Labour should offer *today* Caroline Lucas to be in shadow cabinet, form Green/Red alliance, stand down 1x further candidate for Greens

— Paul Mason (@paulmasonnews) April 18, 2017
Shortly after the announcement of the election by May, journalist and Labour supporter Paul Mason suggested that Lucas be given a place in the shadow cabinet and that Labour should agree to support a Green bid for one parliamentary seat.
Coalition?
On the prospects of a coalition, the Lib Dems appear to have ruled out joining up with Labour, but have refused to say they would not side with the Conservatives once again.
The SNP has said it would be willing to form an alliance with the Lib Dems and Labour to keep the Tories out.
Sturgeon told the Telegraph on Wednesday: "If the Parliamentary arithmetic lends itself to the SNP being part of a progressive alliance to keep the Tories out of Government then the SNP will seek to be part of that as we said in 2015."
Sturgeon maintained that her job "first and foremost is to stand up for Scotland."