Nigel Farage 'weighing up' running in general election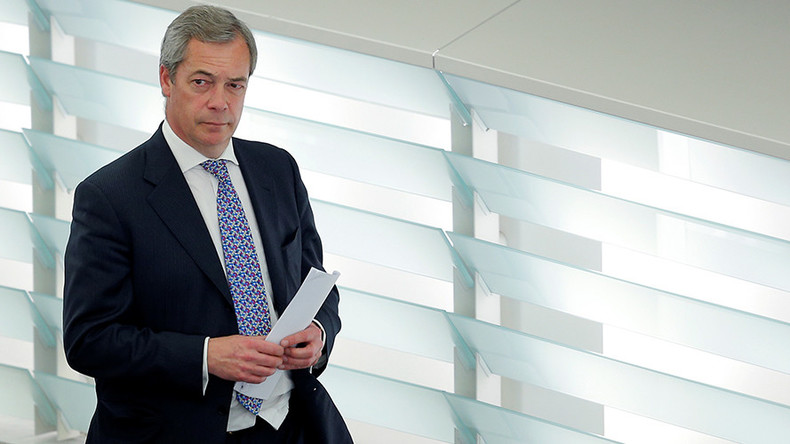 Former UKIP leader Nigel Farage has not ruled out standing in the general election on June 8, saying he needs to "weigh up" where he is best placed to have an impact on Brexit.
Farage stepped down as leader in July 2016, after securing victory in the EU referendum and claiming to have achieved all of his political ambitions. Farage has never been far from the party, however, and current leader Paul Nuttall has struggled to step out of his shadow.
"I am still leading a group in the European Parliament where of course ultimately there will be a veto over the whole Brexit deal and where the negotiations will take place over the next two years," Farage told BBC Radio 4 on Thursday morning.
"And I have got to weigh up, you know, where am I best to be in terms of having an impact on Brexit and perhaps warning the British public that it's not going in the direction it should be.
"Am I better off staying in Strasbourg or better off trying to go to Westminster?"
Asked whether he would win a seat if he did decide to run, Farage replied: "I think I would, yes."
The Euroskeptic denied there was a problem with party infighting, saying divisions within UKIP had healed since Farage's initial successor, Diane James, quit after just 18 days as leader and Douglas Carswell, UKIP's only MP, quit the party.
"We should have kicked [Carswell] out two years ago," Farage said.
"He was very much responsible for division in the party. When you have someone [like me] who has been a dominant figure as leader, my critics would say domineering and they would probably be right too, when that person goes, there is bound to be a period where we need to settle down."
Farage said Nuttall has "six weeks to prove himself … it's just as simple as that."
"[Brexit] is far from over and we need a strong UKIP voice in British politics to hold the government to account," he added.
If Farage decides to stand, it will be his eighth attempt to win a Westminster seat.
He came second in the 2015 general election to Tory MP Craig Mackinlay in the South Thanet seat – a campaign now under a police investigation over alleged irregularities in Tory spending.
Farage said he had lost "in circumstances that weren't entirely fair, but we'll let the Crown Prosecution Service decide about that."
Carswell quit the party last month, meaning UKIP will head into the election without an incumbent.
Nuttall recently failed to win the Stoke-on-Trent Central by-election from Labour, despite the heavy pro-Brexit vote in the seat.