Opposition parties come out swinging as snap general election tears open faultlines [VIDEO]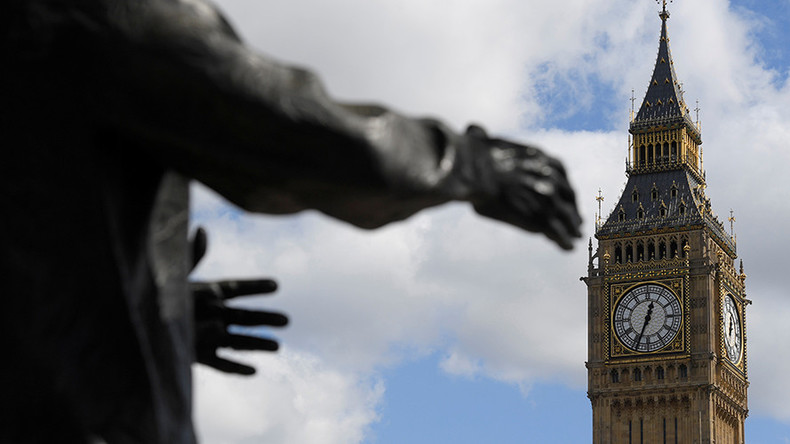 Britain's political parties launched into combat mode on Wednesday after Parliament backed the prime minister's call for a snap general election on June 8.
READ MORE: Ex-Tory Chancellor George Osborne quits as MP
Amid Theresa May's talk of "unity" the approaching general election has already seen parties across the spectrum spoiling for a fight.
Labour catfighting continues
The Labour Party found new cause for internal disputes as local branch organizers, also known as Constituency Labour Party (CLP) secretaries, were told that all MPs seeking reelection would be "reselected automatically."
A general email sent out by the party headquarters said that "due to the exceptional snap General Election circumstances" local party members would not be able to select all their candidates.
It is understood that supporters of socialist leader Jeremy Corbyn were looking forward to putting forward candidates of their own persuasion and ousting many of the party's established backbenchers.
The party attempted to appease concerned members by guaranteeing the measure "will not set any precedent for future elections."
Sturgeon set to spar
Meanwhile, Scottish National Party (SNP) leader and Scottish First Minister Nicola Sturgeon had strong words for PM May, calling the elections an "attempt to crush the parliamentary opposition that she faces."
"The self-inflicted weakness of the Labour Party has given the prime minister her excuse but the SNP has a very different plan, we are determined that Scotland's voice will be heard and heard loudly and clearly," she added.
Welsh nationalists may defy Corbyn
Leanne Wood, leader of the Welsh nationalist party Plaid Cymru, is "seriously considering" running in the parliamentary seat of Rhondda, south Wales, according to the BBC.
The current holder of the seat is Labour MP Chris Bryant, pitting the two opposition parties firmly against each other.
Farron says being gay not a sin
Liberal Democrat leader Tim Farron has already been accused of homophobia.
Farron, who is openly Christian, was forced to say he did not think being gay is a sin, after several mealy-mouthed answers when pressed on the question triggered outrage.
"A lot of his views will be asked about over the next seven weeks, and he was asked one question which he refused to give an answer to, and I'd be interested if he could today," Conservative MP Nigel Evans said in the House of Commons on Wednesday.
"Does he think that being gay is a sin?"
Farron eventually replied to openly gay Evans, saying: "I do not."
"And I tell you what, I am very proud to have gone through the lobby behind him in the coalition government where the Liberal Democrats introduced gay marriage, equal marriage, and indeed did not go as far as it should have done in terms of recognizing transgender rights," said Farron.
Tactical coalitions
Farron did not rule out a coalition with the Tories, repeating the composition of the 2010-2015 government. A ruling alliance with the Labour Party, however, was dismissed by senior Lib Dems, who hoped to distance themselves from "toxic" Corbyn.
The Greens, who only have one MP, have called for a so-called progressive alliance with Labour and the Lib Dems to "stop the Tories from wrecking our country for generations to come."
Co-leaders Caroline Lucas and Jonathan Bartley called on their counterparts Corbyn and Farron to fight together against a 'hard Brexit.'
Understand Corbyn has definitively ruled out any progressive alliance with SNP, Lib Dems and Greens at NEC meeting today

— Jessica Elgot (@jessicaelgot) April 19, 2017
"We understand that, in the immediate run-up to an election, signalling a willingness to work with other parties might be difficult but we hope you'll agree that the times we are living in require leaders to be courageous and visionary, to actively build a more positive politics," the pair said in an open letter to the Labour and Lib Dem leaders.
"Britain is at a crossroads – and this election will dictate the very future of our country. Many of the public want us to join forces to help stop the Tories from further wrecking our country for generations to come and we hope you will be willing to at least take the first step and meet with us."
TV debates to go ahead... with or without May
With everything to play for, Theresa May might have to rethink her 'no debates' position, as ITV confirms it will hold a leaders' debate as it did in previous elections.
The statement from the channel came after May faced taunts of "frit" from Labour MPs.
Both Wood and Sturgeon suggested that there should be an "empty chair" were May not to take part.