Pro-Brexit voter rails against Lib Dem leader on campaign trail (VIDEO)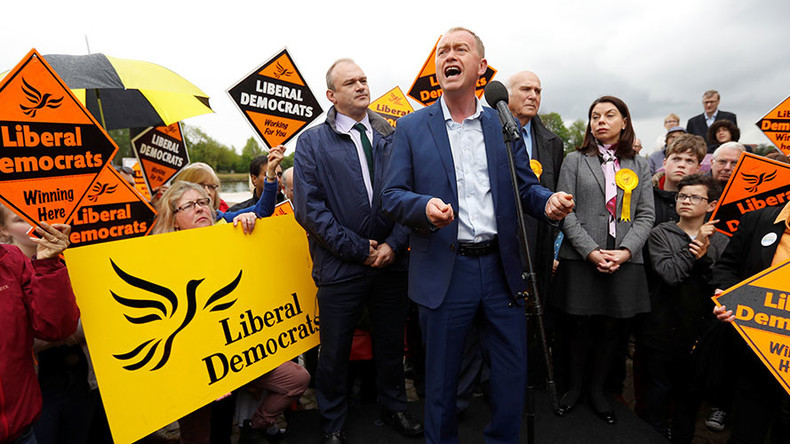 Liberal Democrat leader Tim Farron was left red faced when an angry Leave supporter accosted him during a campaign trip to Oxfordshire.
The pensioner followed Farron around, shouting "I knew what I was voting for," while berating the Westmorland and Lonsdale MP for believing all Brexiteers are racist.
Malcolm Baker interrupted an interview with the Press Association, saying: "I voted Leave and I'm proud to have voted Leave and I knew what I was voting for."
Farron attempted to save the encounter by asking Baker whether he had grandchildren and how he felt about Brexit affecting them.
"Are you proud that they will inherit a poorer, less powerful, less secure country?" Farron asked the enraged 65-year-old.
"I'm proud that they will be coming out of Britain, err, out of Europe and that we will have our own destiny and not have people telling us we are going to pay £100 billion to get out," Baker replied in a fit of pique.
"If that's your policies, I hope you only get six seats," he added.
Baker later railed against Farron's supporters, loudly proclaiming that although he "always voted Labour… I will be voting for Theresa May."
One bystander called Baker a "f***ing idiot."
Baker told the Press Association he was "fed up of hearing this chap [Farron] keeping on running Britain down."
Farron said his critic was right to have his say on Brexit but that what he voted for in the 2016 referendum was not the final deal.
READ MORE: 'Fish finger' stands for election against Lib Dem leader Tim Farron
"We didn't get round to the niceties of the argument. What Malcolm voted for was departure last June. I respect that. He didn't vote for destination, he wasn't asked. None of us were asked," he said.
"That is not democracy. So, for Malcolm's sake and, dare I say, particularly for his grandchildren's sake, that stitch-up must not be imposed on the British people. People should have the final say, not the politicians.
"If you believe in democracy and if you believe in the British spirit then neither of those things lead to you rolling over and dying when you have lost the result."
Baker, who returned later for a less heated conversation with Farron, argued that unlike the Lib Dems, he didn't "tell people who voted Leave that they didn't know what they were voting for."
Baker was not the only one to give Farron a less than welcoming introduction to Oxfordshire. Earlier in the day, a passer-by booed and shouted at the Lib Dem leader: "You and the coalition, bloody Cameron."
The Lib Dems, however, shrugged off the abuse, and said it was Labour and the Tories who should be afraid.
"Tim today was out meeting voters today, unlike Theresa May, like he did yesterday and the day before," a Lib Dem spokesman said.
"That exchange should have worried Labour, as a lifelong Brexiteer voter is leaving them."