Lib Dem leader sacks parliamentary candidate for 'anti-Semitism'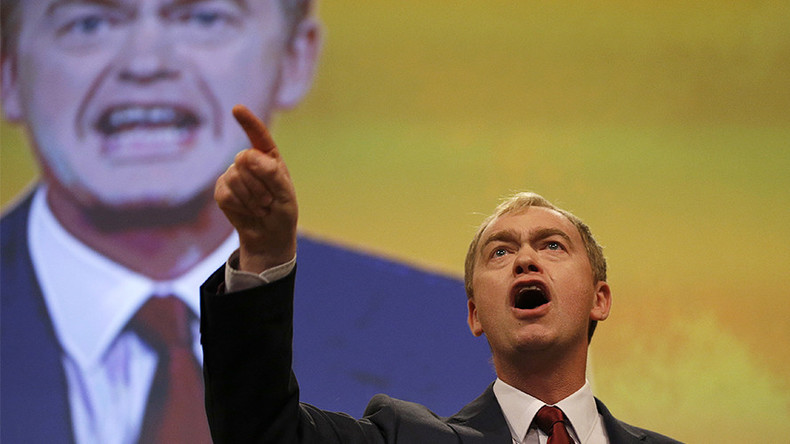 Liberal Democrat leader Tim Farron says he has sacked a parliamentary candidate and former MP over comments deemed "deeply offensive, wrong and anti-Semitic."
David Ward served as a Lib Dem MP for Bradford East from 2010 to 2015 and had been due to run again in the snap general election on June 8.
The move follows criticism in the House of Commons during Prime Minister's Questions from retiring Tory MP Eric Pickles, who asked Prime Minister Theresa May if she shared his "disgust" that a former MP who had been "criticized by the Home Affairs Select Committee for anti-Semitism has been selected for Bradford East for the Liberal Democrats."
"I think people will be rightly disappointed to see the Liberal Democrats readopt a candidate with a questionable record on anti-Semitism," May responded.
Farron confirmed the dismissal at a rally in St. Albans on Wednesday shortly after.
"I am fully aware of the comments David Ward has made in the past and I find them deeply offensive, wrong and anti-Semitic.
"I think his decision to stand again, and the local party's decision to select him, is wrong and I disagree with it completely," the Lib Dem leader said.
"I don't select our individual candidates and nor should I. But let me be clear, I won't tolerate anti-Semitism in my party."
He pointed out that Ward had been "disciplined in the past" for comments on the Israel/Palestine conflict.
In 2013 Ward was suspended for three months after calling Israel an "apartheid regime."
Ward refused to apologize for his use of the term.
Responding to news of his sacking, Ward told the Guardian: "The anti-Semitic thing is a nonsense."
"It is just used, it's a well-known tactic. How do you avoid conversation or any criticism about Israel? Just say people are anti-Semitic. I am certainly not anti-Semitic."
In a statement, Simon Johnson, chief executive of the Jewish Leadership Council (JLC), said the sacking was the right decision.
"The selection of David Ward for Bradford East was an error, and rightly criticized by politicians from all parties.
"Mr Ward's views are offensive, and he has been an unrepentant serial offender. It is important that all parties have a zero tolerance approach to anti-Semitism."