'Fish finger' stands for election against Lib Dem leader Tim Farron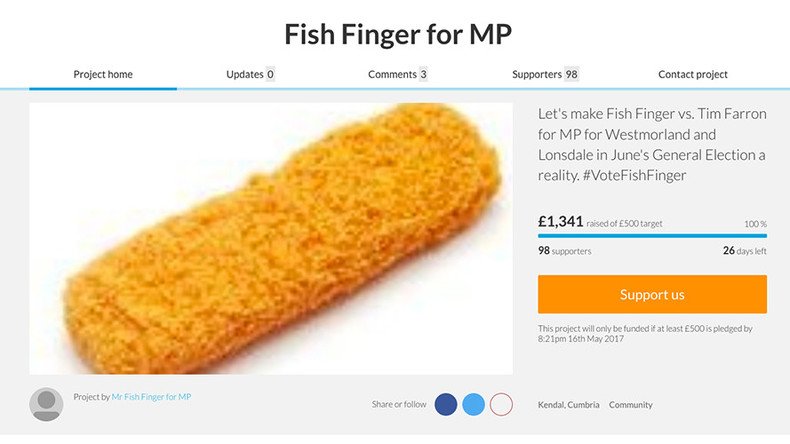 Pranksters have raised over £1,300 (US$1,667) to run a breaded finger of cod against Liberal Democrat leader Tim Farron at the upcoming general election on June 8.
Candidates standing for election in the UK must pay a deposit of £500, which is kept by the Treasury if the individual fails to get five percent of the constituency vote.
In his crowdfunding page, the candidate, who goes by the name Mr. Fish Finger, vowed to "knock Tim Farron off his perch and put him in his plaice."
It is believed the candidate for the Westmorland and Lonsdale seat in Cumbria will attend all campaigning events dressed as a fish finger.
"Any funds raised above £500 will ensure that Mr. Finger looks dashing as he embarks on his new career," a statement on the crowdfunding website added.
The pranksters are also responsible for a series of Twitter parody accounts for the extraordinary campaign, Mr. Fish Finger and the alleged "fishwife" of the candidate, Mrs. Fish Finger.
The joke started with a poll by a now-closed Twitter account asking users who they trusted more between Farron and a fish finger. The whole ruse is being orchestrated by a man under the username @SkipsterX, but little more is known about the prankster.
It is true. I created the fishfinger farron thing. I am....

...

...

,..

The Codfather.

Not even sorry.

— Skipster 🐟☝ (@SkipsterX) April 18, 2017
Famous cooking writer Jack Monroe was among those pledging support to the campaign, alongside what RT believes to be parody accounts in the name of journalist Owen Jones's Mum, The Cod Father and former Labour leader Tony Blair.
Mr. Fish Finger follows a fine tradition of comedy candidates in British elections. In 2015 comedian Al Murray ran in South Thanet hoping to block Nigel Farage's bid to Parliament.
The Official Monster Raving Loony Party has also been running candidates since 1983, with their man Sir Oink A-Lot getting 0.5 percent of the votes in Oldham West in 2015.
The party's late founder, musician David Sutch, also known as Screaming Lord Sutch, 3rd Earl of Harrow, ran for a series of elections between 1963 and 1997.
You can share this story on social media: