#GE2015: The key players in race to Downing Street
Published time: 7 May, 2015 12:53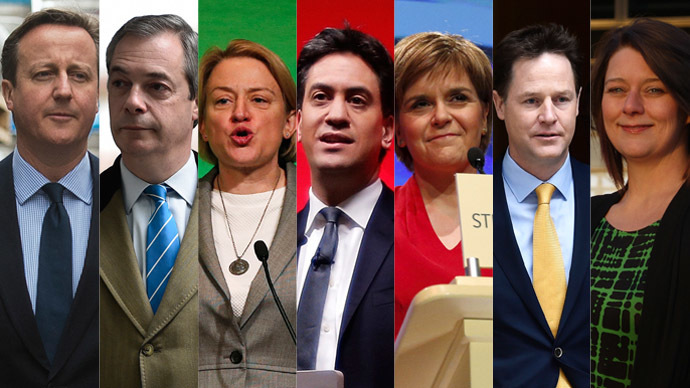 Voters across Britain are heading to the polls. The first indication of the outcome of this highly unpredictable election will emerge in exit polls, published after voting closes at 10pm. RT examines the leaders making a bid for power.
There are 650 seats in the House of Commons, Parliament's lower house, which means a party needs 326 seats to hold a majority. Neither the Conservatives nor Labour are expected to win an outright majority, so another coalition government appears likely. But who will be the kingmaker?
RT takes a look at the big contenders for office in the 2015 General Election.
David Cameron, Conservative
Cameron has served as prime minister since 2010 and has been leader of the Conservative Party since 2005.
His government legalized same-sex marriages in England and Wales, agreed to hold a Scottish independence referendum in September 2014, met the UN target of spending at least 0.7 percent of GNI on aid to developing countries and promised an 'In/Out' referendum on the UK's membership of the European Union in 2017 if the Conservatives are re-elected.
He failed to secure a Conservative majority in 2010, but took power with the support of the Liberal Democrats in a coalition. While a charismatic leader, Cameron has struggled to shed his 'posh' image, made worse by the growing social inequality that has characterized his tenure.
READ MORE: UK General Election 2015 LIVE UPDATES
READ MORE: Election deadlock: Who will rule Britannia after election?
READ MORE: General election fix? Anti-rigging campaigners issue last-minute tips to save SNP
Ed Miliband, Labour
Miliband has been the Leader of the Labour Party and leader of the Opposition since 2010.
Miliband, who was born in London, first worked as a television journalist and a visiting scholar at Harvard University. Former Prime Minister Tony Blair made Miliband parliamentary secretary to the cabinet office and Blair's successor Gordon Brown made Miliband minister for the cabinet office and chancellor of the Duchy of Lancaster. From 2008 to 2010 he was secretary of state for energy and climate change.
The Opposition leader has been plagued by a hostile press, which has branded him 'Red Ed' – labeling his calls for moderate reform too radical. His critics say he lacks the charisma to be an effective prime minister. However, polls indicate he may overtake Cameron.
Nick Clegg, Liberal Democrats
Clegg is the current deputy prime minister because his party the Liberal Democrats are the coalition partner of the Conservatives.
Clegg is fluent in five languages and attended the University of Cambridge and the University of Minnesota. He worked as a journalist for the Financial Times and as an adviser to the late Leon Brittan, a Thatcher government minister.
His approval rating collapsed, particularly among young voters, after he broke his pledge not to hike tuition fees. As a result, Clegg may lose his seat.
Nigel Farage, UKIP
Farage is the leader of the UK Independence Party. The former commodities broker became leader in 2010.
He is a Euroskeptic known for his anti-immigration rhetoric and often controversial remarks. Farage, a founding member of UKIP, was elected to the European Parliament in 1999 for South East England and re-elected in 2004, 2009 and 2014.
Nicola Sturgeon, Scottish National Party
Sturgeon is the current first minister of Scotland and leader of the Scottish National Party (SNP).
She studied law at the University of Glasgow and worked as a solicitor. In 1992, she became Scotland's youngest parliamentary candidate.
After Alex Salmond resigned as leader of SNP following the defeat of the Yes Scotland campaign in the 2014 Scottish independence referendum, Sturgeon became party leader.
The SNP, Plaid Cymru and the Greens said they plan to unite to combat the austerity policies of the three mainstream political parties in an 'anti-austerity alliance'. Sturgeon wants to remove the £26,000 annual benefits cap and wants to scrap Britain's Trident nuclear weapons program.
Natalie Bennett, Green Party
Natalie Bennett is the leader of the Green Party of England and Wales. She was born in Sydney, Australia, and moved to the UK in 1999.
She worked as a journalist – as a deputy-editor of Guardian Weekly and for the Independent and the Times newspapers. In 2006, she joined the Green Party and was elected leader in 2012.
Leanne Wood, Plaid Cymru
Wood was elected leader of the Welsh nationalist party Plaid Cymru in March 2012, becoming the first woman to lead the party. She briefly worked as a probation officer and lectured in social policy at Cardiff University. She suggested Plaid Cymru would support a Labour government.