Farage knighted in RT studios after being snubbed by actual Queen (VIDEO)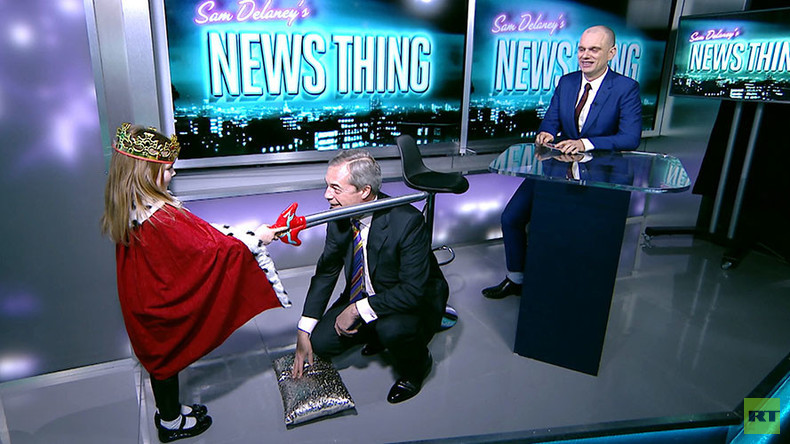 Nigel Farage's wish has finally come true – sort of. The former UKIP chief has been granted a knighthood, not by the Queen but by RT's News Thing.
Farage was once again a guest on Sam Delaney's comedy show, when producers surprised the arch-Brexiteer with his long-awaited knighthood.
"Because it's your third time on the show, we lined up a special treat from us, we have arranged for you the one thing we think you've been dreaming of secretly all your life," Delaney told a startled Farage. "That is, an honorary News Thing knighthood."
A small 'Queen' was then brought in to knight Farage in the RT studio.
"Come on then," he tells the mini-majesty, "don't hurt me."
Delaney also told Farage he had been made "honorary British ambassador to America and honorary MP to South Thanet, because they didn't elect you for real."
But viewers were left in stitches when the little girl stuck around the studio to tell the UKIPer her mum thinks he "hated foreigners."
"I don't think that's quite right," a red-faced Farage replied.
This week Farage has found himself in the middle of a very public spat with his party's only MP, Douglas Carswell.
Carswell has been blamed for blocking Farage's chances of getting a real knighthood.
Carswell defected to UKIP from the Conservative Party in 2014. However, he is alleged to have held talks with the Tories this week for a possible return.
Farage has called on UKIP to sack Carswell for treason and for damaging the party.
"Knight night," Carswell replied pithily on Twitter.
You can share this story on social media: