Electoral Commission urged to investigate Farage's 'creepy' Brexit campaign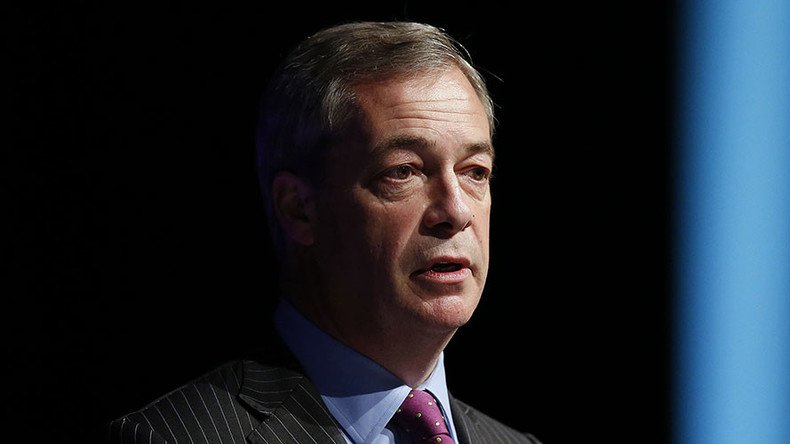 The Electoral Commission has been urged to investigate Leave.EU, the Brexit campaign group backed by Nigel Farage, which has admitted to using "creepy" Facebook profiling technology to persuade Brits to vote to leave Europe.
Leave.EU was reportedly aided by Cambridge Analytica (CA), a data firm credited with helping US President Donald Trump win the US election, which uses artificial intelligence to personalize political messages to the things voters say and 'like' on Facebook.
Leave.EU, largely funded by UKIP donor Arron Banks, did not declare CA's role to the Electoral Commission, the Guardian reports.
Stephen Kinnock, a pro-Remain Labour MP, has called on the regulator to urgently investigate whether Leave.EU breached provisions in the Political Parties Elections and Referendums Act 2000.
"The market rate for a donation of this kind could amount to hundreds of thousands of pounds, based on the previous experience of referendum campaigns and political parties for analytical tools," Kinnock told Claire Bassett, Electoral Commission chief executive, in a letter seen by the Guardian.
"Yet Leave.EU has not declared this donation-in-kind at any point in their returns to the Electoral Commission."
Any additional spending between April 15 last year and the June 23 referendum would have pushed Leave.EU over the spending limit for the regulated period. The campaign group was allowed by law to spend up to £700,000 ($858,000). According to filings for the campaign published last week, they spent £693,000.
CA is backed by Robert Mercer, a billionaire Trump donor, whose daughter Rebekah was part of the White House transition team. Mercer has reportedly also invested in the right-wing news website Breitbart.
Leave.EU has denied any wrongdoing.
"[CA] did no work for us formally and if they had it would have been way before you had to report expenditure," CA communications director Andy Wigmore said.
He branded Kinnock a "remoaner" and a "rabid Europhile."
Wigmore previously told the Observer that Facebook was a powerful weapon for Leave.EU.
"Using artificial intelligence, as we did, tells you all sorts of things about that individual and how to convince them with what sort of advert.
"And you knew there would also be other people in their network who liked what they liked, so you could spread. And then you follow them. The computer never stops learning and it never stops monitoring."
He added: "It's really creepy! It's why I'm not on Facebook! I tried it on myself to see what information it had on me and I was like, 'Oh my God!' What's scary is that my kids had put things on Instagram and it picked that up. It knew where my kids went to school."
Wigmore told the Observer CA was "happy to help" with Leave.EU's work on Brexit on a pro bono basis. He said that was because Farage was a "good friend" of Mercer.
CA denies it undertook any work for Leave.EU.
You can share this story on social media: