'Dinner with The Donald:' Farage boasts of cozying up to US president… despite getting no invitation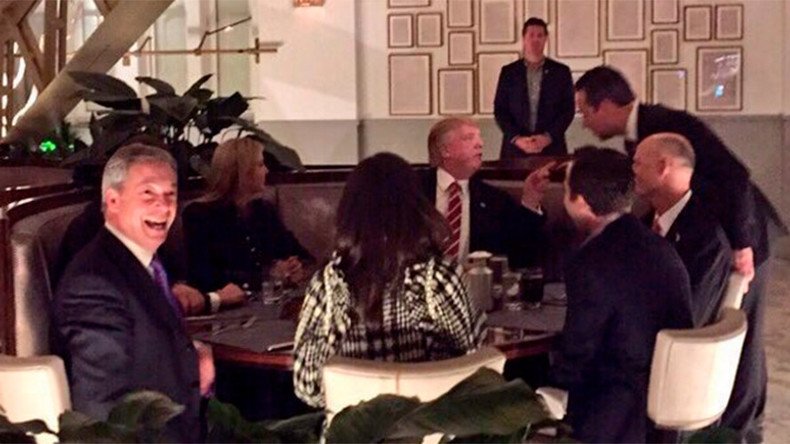 Former UKIP leader Nigel Farage dined with President Donald Trump at his Washington hotel on Saturday, although the Eurosceptic is not thought to have been invited to the meal.
Perhaps unsurprisingly, Farage's tweet boasting about the dinner was met by mockery online.
Farage dined at the Trump International Hotel alongside Trump, Ivanka Trump and her husband, White House advisor Jared Kushner, Florida Governor Rick Scott, and Benny Johnson from the Independent Journal Review.
According to Johnson, Farage joined the dinner at the last minute, and had not been invited beforehand.
Farage was in the US for the Conservative Political Action Conference (CPAC), where he delivered a speech on Brexit.
"In 2016, we witnessed the beginning of a global political revolution, and it's one that is not going to stop. It's going to roll out all over the world," he said at the event.
Many social media users weren't pleased that Farage – who remains a European Member of Parliament despite campaigning for Brexit and whose former UKIP party suffered losses in UK elections – has access to the president.
Farage was one of the first foreign politicians to meet with Trump after his election victory in November. The president even suggested that Farage could be the UK's ambassador to the US, an idea that UK Prime Minister Theresa May quickly quashed.
While Farage appeared to have access to the president, the press pool was reportedly denied access to the hotel.
You can share this story on social media: