UKIP civil war rages as only MP reportedly holds talks on Tory re-defection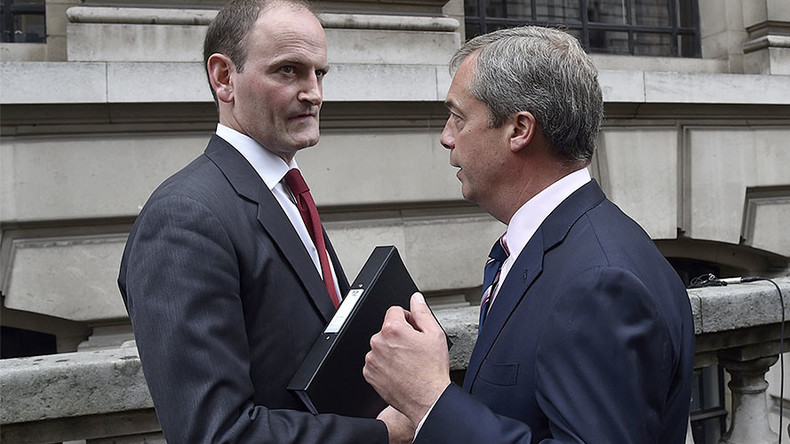 The civil war within the Brexit spearheading UK Independence Party (UKIP) is deepening, after its only MP and one-time Conservative was reportedly found to be holding chats with his former party about a possible return.
Internal fighting is nothing new to UKIP, but the current fracas could be the most serious yet, with Brexit possibly also leaving the party with a serious funding crisis.
Douglas Carswell, who defended himself on Wednesday by claiming he is "100 percent UKIP," was accused by the party's former leader Nigel Farage of lacking loyalty.
"Did [Carswell] ever leave the Conservatives? He was certainly representing them during the referendum campaign," Farage told the Press Association.
Farage went as far as suggesting the Clacton MP should be fired, just three years after defecting from the Tories to join UKIP.
"I don't want my successor to have to put up with the same sabotage and division that I did," Farage added.
Old grudges are said to be playing a role in the epic showdown between Farage and Carswell, after the MP was blamed for costing the former leader a knighthood.
Recently leaked emails show Carswell, who was originally tasked alongside chief whip Gavin Williamson to get Farage a New Year's honors knighthood, joking about the appointment. In an exchange last December with another UKIP former leader, Lord Pearson, Carswell mocked Farage's ambitions.
"Perhaps we might try angling to get Nigel an OBE [Order of the British Empire] next time round? For services to headline writers? An MBE, maybe?" he wrote.
On Monday night, after a very public spat between Carswell and UKIP's main funder Aaron Banks, the cheeky MP simply tweeted: "Knight night."
By Tuesday Banks announced he was planning to stand against Carswell at the 2020 general election.
Funding problems
Amid all the backbiting, concerns have grown around UKIP's dire financial situation, particularly once Article 50 is triggered later this month.
According to a BuzzFeed investigation, the party relies on EU funds to pay its staff and main politicians – an income set to end in 2019 if Prime Minister Theresa May sticks to the Brexit timetable.
The party, which currently counts 22 MEPs in its ranks, claims over £5,400,000 (US$6,640,000) a year from Europe to cover costs.
Nearly 80 people are listed as UKIP employees and their income comes straight from Brussels' banks. MEPs receive a further £84,484 each in EU-paid salaries.
If Carswell leaves UKIP & they don't win a by-election, by 2019 UKIP will be left with 8 full-time elected politicians, all in London/Wales.

— Jim Waterson (@jimwaterson) March 1, 2017
UKIP leaders too have historically relied on funds other than the party's to survive, with Farage notoriously living off his MEP earnings. With Britain out of the EU many are questioning how the party expects to pay its leaders after Brexit. Some of the party's former donors have now abandoned ship and joined May's Conservative Party.
UKIP admitted to the Telegraph earlier this week that it has an £800,000 financial "black hole" in its accounts.
You can share this story on social media: