Nigel Farage wants UKIP's only MP kicked out of party for 'sabotaging his knighthood'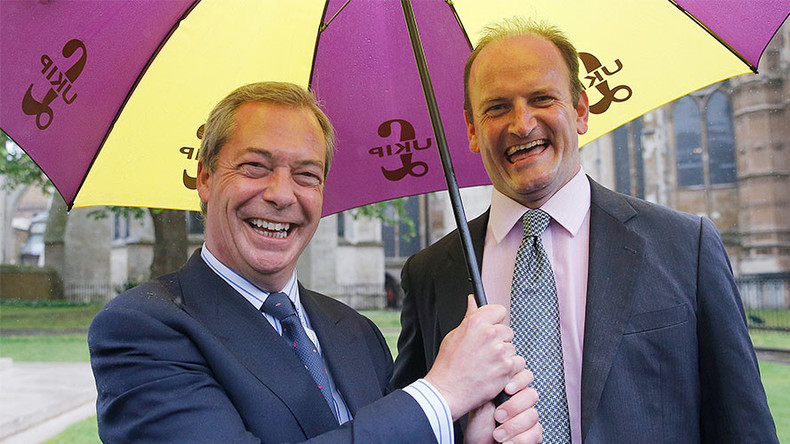 Ex-UKIP leader Nigel Farage has called for the party's only MP to be sacked over claims he is trying to divide the 'kippers' in every "imaginable" way.
Farage claims Douglas Carswell, MP for Clacton, has opposed the party's policies and is "consumed with jealousy and a desire to hurt me."
"As a party, how can we let a man represent us in the House of Commons who actively and transparently seeks to damage us?" Farage wrote in the Telegraph.
"I think there is little future for UKIP with him staying inside this party. The time for him to go is now."
Alongside Farage's accusations, UKIP's main millionaire donor Aaron Banks is planning to stand against Carswell in the next Clacton election, saying the current MP "does not care" about the party.
The next general election is not due until 2020.
"Mr Carswell is a career politician and doesn't care about UKIP and he has got to get out," Banks said.
"So my first job as chairman would be to purge the party of these sorts of people."
Banks has also threatened to withdraw donations unless he is made UKIP's chairman.
"If Nuttall doesn't professionalize it and toss out the likes of Douglas Carswell, Suzanne Evans and the rest of the Tory cabal then the party is finished anyway," Banks said.
Farage and Carswell have been feuding since allegations emerged suggesting the MP tried to sabotage the former's knighthood.
In an email leaked to the paper back in December, Carswell apparently played down the chances of Farage becoming a peer, and mocked him by saying he should go for an Order of the British Empire (OBE) instead.
"As promised, I did speak to the government chief whip.
"Perhaps we might try angling to get Nigel an OBE next time round? For services to headline writers? An MBE, maybe? Let's discuss."
Carswell told the Press Association he tried his "best to make sure he [Farage] got an honor that reflects his contribution."
Farage claims that Carswell has been distancing himself from the party leadership and policies ever since the general election in 2015.
"From that moment on, Carswell has sought to split and divide UKIP in every way imaginable," he said.
"Since the general election he has brought nothing to the party at all other than constant division, at times I believe deliberately stirred up to cause maximum damage to the party."
Meanwhile, the former UKIP leader has called for the party to mirror US President Donald Trump's stance on immigration.
"Should we have strong vetting, should we make sure that we're a place that illegal immigrants can't come, should we have a proper, balanced, system where we take good people in from around the world?
"Absolutely, that's exactly what we should be doing and I think maybe UKIP has slightly lost ownership of this argument," Farage said.
Trump recently tried to impose a ban on immigrants entering the US from seven Muslim-majority countries before courts enforced an order against it.
You can share this story on social media: