'Hands off': London protesters stand up against Saudi intervention in Yemen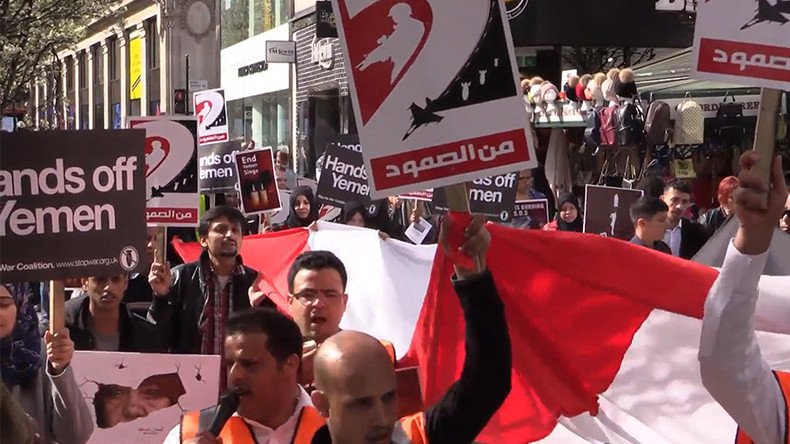 Groups of protesters gathered in central London on Sunday to protest Saudi Arabia's military intervention in neighboring Yemen.
It's been two years since Saudi fighter jets launched a bombing campaign against Yemen's Houthi rebels, after they gained control of a number of cities and forced former President Abdrabbuh Mansour Hadi to flee the nation.
READ MORE: Russian humanitarian aid arrives in Yemen
On Sunday, dozens of protesters met at Marble Arch, near London's Hyde Park, to show their solidarity with people caught up in the long-running conflict.
Demonstrators also marched towards the BBC offices, carrying signs emblazoned with "End Yemen Siege" and "Hands Off Yemen."
One protester told RT's Ruptly video agency that Britain's weapon sales to Saudi Arabia are a "huge contradiction in British policy."
"This military assistance is the very assistance that is bombing the ports and roads, where the aid needs to go into Yemen to help the starving Yemenis," he added.
The conflict in Yemen between the Houthi and a coalition of Arab states led by Saudi Arabia has now claimed more than 10,000 lives in two years, Reuters reports.
Allegations of war crimes have been leveled against various parties to the conflict and last week the United Nations human rights deputy chief called for an independent probe to investigate human rights violations.
"We encourage the Yemeni National Commission to make progress on all aspects of its mandate to investigate all allegations of violations of international law and Yemeni law, including those that go beyond the extent of the Commission's cooperation with OHCHR,"said Kate Gilmore, UN Deputy High Commissioner for Human Rights.
The war in Yemen has caused a crisis described by the UN as "one of the world's worst," with approximately 17 million people in Yemen suffering from acute malnutrition due to dwindling food stocks.
You can share this story on social media: