Russian humanitarian aid arrives in Yemen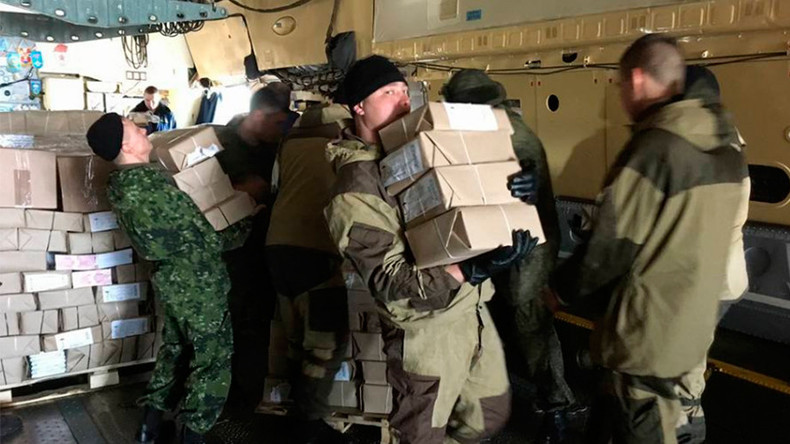 A Russian NGO has delivered lifesaving aid to the desperate population of war-torn Yemen, where over 18 million people now urgently require some form of humanitarian assistance.
The first delivery of humanitarian aid from the Russian Humanitarian Mission, which cares for the needy in conflict zones, began arriving at the Darawan refugee camp, in the western Yemeni province of Amran on Thursday.
Filled with life essential supplies for the internally displaced people who are temporarily residing in the camp, the first batch of aid comprised basic foodstuff, medicines, tents and blankets.
READ MORE: Saudi arms imports triple amid Yemen campaign, US & Europe top suppliers to Mid East – report
The largely forgotten crisis in Yemen has been raging for nearly two deadly years with no end in sight. Over 18 million people in Yemen now require some form of urgent humanitarian intervention in a conflict classified by the United Nations as a Level 3 emergency or as a most severe, large-scale humanitarian crisis.
To help alleviate the human suffering in Yemen, the Russian Humanitarian Mission initiated an aid drive, where anyone willing to contribute donated anything that they could to help their fellow beings. Little by little, the mission gathered enough supplies to fill the aid convoy.
Yemen, already the poorest country in the Arabian Peninsula even before the conflict, has seen the humanitarian situation further aggravated by fighting, forced displacement, and shortages of basic commodities.
Deadly diseases, most notably cholera, and the destruction of medical facilities on the ground by the continued Saudi-led bombing campaign are exacerbating the humanitarian suffering there.
According to UN estimates, some 10.3 million people are in "acute need" of immediate, lifesaving assistance. As of January 2017, at least 2 million people remained displaced by the brutal fighting. Another 1 million have returned to living in difficult conditions with limited access to food, water and healthcare.
The UN estimates that 14.8 million people lack access to basic healthcare. Only 45 per cent of health facilities are functioning, and as of October 2016, at least 274 health facilities had been damaged or destroyed, largely due to Saudi-led air strikes.
This development is especially impacting the women and children. About 3.3 million children and pregnant or lactating women are malnourished.
The war, which has so far claimed at least 10,000 lives, started in March 2015 when Saudi Arabia and its coalition of Arab countries began bombing Yemen to reinstall its ousted Sunni president.
Over the two-year military assault, Saudi warplanes have reportedly been bombing schools, hospitals, marketplaces, and other non-military targets. Leading rights groups say such indiscriminate attacks should be considered war crimes.
The most prominent human rights groups have made repeated appeals to the UK and the US — the biggest arms suppliers to Riyadh — to stop providing weapons.
During Barack Obama's two terms as president, the US sold Saudi Arabia $115 billion worth of arms in 42 separate deals, the Center for International Policy, a US-based anti-war think tank reported in September.
It estimated that US arms offers to Saudi Arabia were more than any US administration in the history of US-Saudi relations. Meanwhile, according to Campaign Against the Arms Trade (CAAT), Britain licensed £3.3 billion (US$4.1 billion) of arms sales to Riyadh during the first 12 months of the Yemen war.
You can share this story on social media: