Saudi-led coalition airstrikes #1 cause of civilian deaths in Yemen – UN body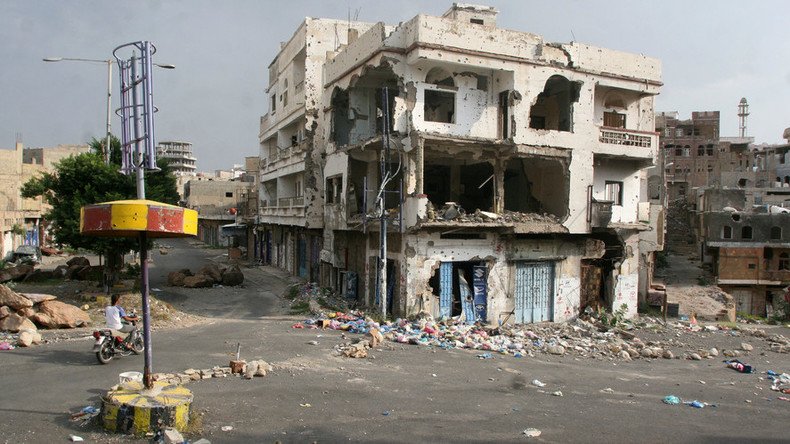 Airstrikes carried out by the Saudi-led coalition in Yemen are responsible for the majority of civilians killed in the country's ongoing conflict, the UN has found, while calling for an international investigation into the coalition's violations there.
"OHCHR has documented incidents in which air strikes by the coalition forces had an impact on localities with a high concentration of civilians, including markets and residential areas, as well as on events such as wedding ceremonies, frequently incurring high casualties and causing substantive infrastructural damage," the Office of the United Nations High Commissioner for Human Rights said in a report.
"The cases monitored by the Office indicate that air strikes were the single largest cause of casualties," the report published on Thursday states. "The prolonged duration of the conflict has strongly heightened the disastrous risk of a systemic collapse of Yemen."
According to the UN's human rights office, an estimated 3,799 civilians have been killed since the Saudi-led airstrikes began in March of 2015. The UN and rights groups estimate that at least 9,000 people have died overall, and 6,711 people have been wounded in the conflict.
UN High Commissioner for Human Rights Zeid Ra'ad Al Hussein has called for an international investigation into the violations committed by the Saudi-led coalition, saying that a national commission had failed to succeed in pursuing those responsible.
Speaking during a news briefing in Geneva, Mohammad Ali Alnsour, chief of the Middle East and North Africa section of the UN's human rights office, said: "The coalition had shared with us their internal investigation. And our observation as an office [is] we need to see more transparency in terms of these investigations."
"The compensation of the victims is an important element, but it is not the only element. We think there should be a kind of accountability and these violations not to be repeated again," he added.
The UN's 22-page report also condemns the recruitment of child fighters in Yemen, as well as suspected US drone strikes and attacks on human rights defenders. The office also accused the Saudi military of dropping cluster bombs in Yemen's residential areas.
Tensions in Yemen escalated after Shia President Saleh was deposed in 2012 and his Houthi supporters – reportedly aided by Iran – eventually seized the capital city of Sanaa in 2014. Houthi forces then advanced from Sanaa towards the south, seizing large parts of Yemen and sending current Sunni President Abd-Rabbu Mansour Hadi into exile.
In March of 2015, the Saudi-led coalition began airstrikes in order to stop Houthi advances and reinstate Hadi to power. By late summer of that year, Saudi-led forces had launched a ground operation as well.
Yemen's civil war has cost the country $14 billion so far, according to a confidential joint report compiled by the World Bank, UN, the Islamic Development Bank, and the European Union.
The most recent strike by the Saudi-led coalition took place on Saturday, when jets struck Sanaa during a rally attended by some 100,000 pro-Houthi rebels and sympathizers of ex-President Saleh.
Earlier this month, at least 11 people were killed and 19 others injured in an airstrike that targeted a hospital in northwestern Hajjah province, according to Doctors Without Borders (MSF).
Also in August, at least 10 children were killed and almost 30 injured at a school in northwest Yemen, MSF reported. That strike was also blamed on the Saudi-led coalition.
Just days before the school strike, at least nine people were killed in a Saudi-led coalition airstrike in Sanaa that was reported to be the first in recent months.
Speaking on the atrocities committed against civilians in Yemen, human rights activist Lama Fakih, a senior crisis adviser at Amnesty International, told RT that her organization has called for a range of consequences against the Saudi-led coalition for its "unlawful attacks."
"We have seen for example attacks against schools rendering them unusable so that children have not been able to start the academic year. We've seen the Saudis also use a banned cluster munitions which act as landmines when they are left in civilian areas and are particularly problematic for children, who mistake them for toys and move them around and end up being casualties of this weapons," she said.
The UN has condemned the actions of the Saudi-led coalition before releasing its Thursday report. In January, it slammed Riyadh for carrying out "widespread and systematic" assaults on civilian targets.
However, in a surprising and controversial move in June, the UN removed Saudi Arabia from a blacklist of children's rights violators, even after a report found that the Saudi-led coalition was responsible for hundreds of child deaths in Yemen. UN Secretary-General Ban Ki-moon later admitted that the decision was made after threats were received from a number of countries.
You can share this story on social media: