Saudi jets strike Yemen's capital during 100,000 strong rally in support of Houthis (VIDEO)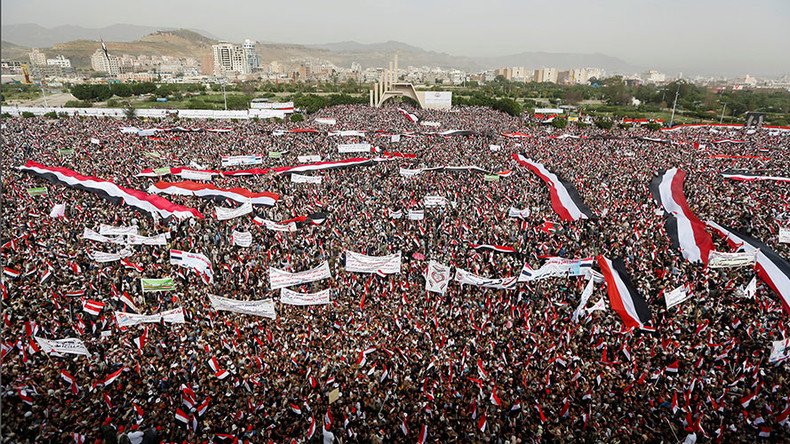 Fighter jets from the Saudi-led coalition hit the Yemeni capital of Sanaa during a massive rally that attracted some 100,000 pro-Houthi rebels and sympathizers of ex-President Abdullah Saleh.
Tens of thousands of people rallied in Sanaa's central square on Saturday in a powerful display of support for the Shiite Houthi rebels and Saleh. Demonstrators cheered a recently established Supreme Political Council that includes representatives of the Houthi movement, as well as supporters of Saleh.
The huge gathering also denounced Saleh's successor, Mansur Hadi, who fled the country last year and is seeking reinstatement with military backing from Saudi Arabia.
During the demonstration, fighter jets bombed Yemen's capital, including the area around the Presidential palace, according to AP. The bombardment resulted in an "unknown number of casualties," the agency reports, quoting local officials. People on Twitter said that at least three civilians were killed and a number were wounded.
"Suddenly, they started bombing and the crowd started running. I basically bolted out of the area. People started screaming... Because everybody's very well armed, they started shooting their AK-47s and their machine guns into the sky," Hisham al-Omeisy said, as quoted by the BBC.
For its part, Saudi Arabia claimed earlier that a rocket had been launched at Narjan, a Saudi city, from Yemen, killing one person and injuring six others, ArabNews reports.
Saudi Arabia has been repeatedly slammed for causing civilian casualties during its bombing campaign. In the latest case on August 13, at least ten children were killed in an airstrike blamed on the Saudi-led coalition that hit a religious school in northwestern Yemen. Doctors Without Borders (MSF) confirmed that 28 youngsters were also injured in that attack. After Saudi jets hit their hospital, killing 19 people, MSF announced on Thursday that it was pulling its staff out of northern Yemen.
In January of this year, the UN condemned Riyadh for carrying out "widespread and systematic" assaults on civilian targets. "The panel documented 119 coalition sorties relating to violations of international humanitarian law," the UN stated.
Saudi Arabia, along with eight allies, began a military operation in Yemen in March of 2015 at request of Yemeni President Hadi, a Sunni, who fled the country after Shiite Houthi rebels seized the capital of Sanaa. The rebels recognize Abdullah Saleh, who was ousted earlier, as Yemen's legitimate president.
A UN backed peace process to end the civil war has so far yielded little result. A Supreme Council recently established by the Houthis has been denounced by the government of President Hadi and Riyadh as well.
The latest round of peace talks between the Houthis and supporters of Hadi collapsed on August 6. The UN expected the sides to get back to the negotiating table in September, however that proposal was brushed aside by the rebels because the Saudis have since ramped up their airstrikes, AP reports.
Meanwhile, after a meeting between Russian special representative for the Middle East, Mikhail Bogdanov, and Yemen's deputy prime minister in Saudi Arabia, Abdulmalik Al-Mekhlafi, Moscow called on both sides to continue to seek a peaceful solution to the ongoing war.
"During the lengthy conversation, we discussed in detail the military, security, and humanitarian situation in Yemen, stressing the need for an urgent peace solution form the crisis in the country," Bogdanov was quoted by TASS news agency as saying.
You can share this story on social media: