UKIP's biggest donor launches 'UKIP 2.0, the Force Awakens' after being 'suspended'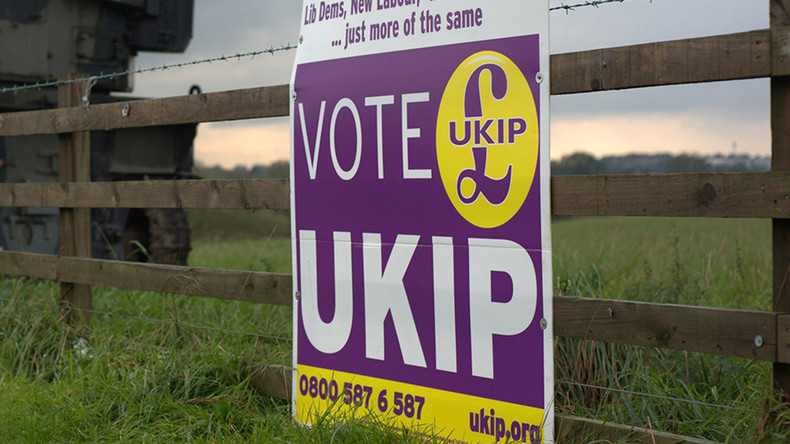 UKIP's last big donor, Arron Banks, has announced he will be launching a new movement he labeled 'UKIP 2.0, the Force Awakens.'
The businessman, who gave UKIP £1 million (US$1.21 million at current rates) ahead of the 2015 general election, set tongues wagging when he tweeted that his membership had been suspended on Tuesday morning.
"Interesting times ahead," he said.
Understand my UKIP membership has been suspended. Interesting times lie ahead ...

— Arron Banks (@Arron_banks) March 14, 2017
Banks has been involved in a very public spat with UKIP's only MP Douglas Carswell, coming out in support of his good friend and former leader Nigel Farage. He has also been critical of new party frontman Paul Nuttall.
When asked by reporters about the reason behind his suspension, Banks wrote: "Apparently for saying current leadership couldn't knock the skin off a rice pudding."
UKIP dismissed reports of his suspension, as Banks has apparently not been a member of the party for several months. Last month, Nuttall himself said he had not spoken to Banks and that he was "not a member of UKIP."
The multimillionaire insurer said his membership had lapsed and that when he tried to reapply he was told he was suspended until the next national executive committee (NEC) meeting.
"UKIP has somehow managed to allow my membership to lapse this year despite having given considerably more than the annual membership fee over the past 12 months," Banks told the press.
"On reapplying I was told my membership was suspended pending my appearance at an NEC meeting. Apparently, my comments about the party being run like a squash club committee and Mr Carswell have not gone down well.
"I now realize I was being unfair to squash clubs all over the UK and I apologize to them. We will now be concentrating on our new movement."
When prompted by a Twitter user to start a new party, Banks quipped a possible name: "UKIP 2.0, the force awakens."
"We are aware that Mr Banks has suggested on Twitter this morning that he has had his party membership suspended," a UKIP spokesman said.
"Mr Banks was notified last year that his membership was due for renewal at the start of October but chose not to renew, despite reminders."
Last week Banks threatened to run in the 2020 general election against Carswell in his Clacton seat.
You can share this story on social media: