Britain threatened with £2bn EU fine after Chinese gangs evade customs duties
Published time: 9 Mar, 2017 16:34
Edited time: 10 Mar, 2017 13:45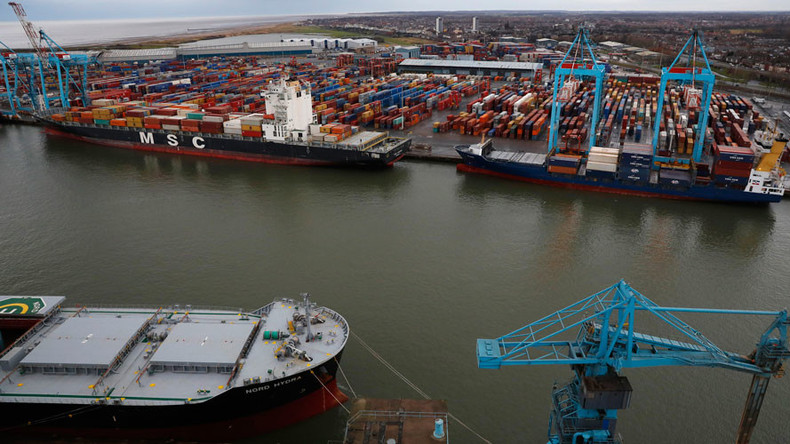 The British government may have to pay a £1.7 billion ($2 billion) fine after allowing Chinese gangs to set up bases at ports around the country.
The EU's anti-fraud office accused the Tory government of dismissing warnings that consignments of Chinese goods were not being priced correctly. It now says neglectful British authorities cost the EU at least €2 billion ($2.1 billion) in customs duties over the last four years.
According to the European Anti-Fraud Office (Olaf), the UK is responsible for close to 80 percent of the EU revenue lost to fraud in 2016.
"Despite repeated efforts deployed by Olaf, and in contrast to the actions taken by several other member states to fight against these fraudsters, the fraud hub in Britain has continued to grow," a spokesman for the watchdog said.
Olaf argues that Chinese criminal groups are using Britain as a gateway into Europe, where they later carry out VAT fraud, amounting to €3.2 billion in losses to the bloc between 2013 and last year.
"As far as Olaf is aware, the UK authorities have not introduced risk profiles and the measures that they have taken do not appear to have curbed this traffic," the group's spokesman added.
"To date, they have not initiated any criminal investigations in relation to these frauds."
Clothes brought from China seemed to be the main cost to the authorities. Chinese exporters declared an average price of €0.91 per kg of women's trousers – a value far lower than that of their main raw material, cotton, over the same period. The average value declared for similar products across the EU was of €26 per kg.
HM Revenue and Customs (HMRC) is contesting the amount of the EU fine, suggesting the calculations were not correct.
"HMRC has a very strong track record for tackling fraud and rule breaking of all kinds, securing more than £26.6 billion last year alone and no one should be in any doubt that we are responding to the threat of fraud," a government spokesman said.
"HMRC is currently handling more than 550 cases relating to potential import fraud, and will not hesitate to engage the relevant prosecuting authorities to bring cases before the courts where evidence of wrongdoing exists."
READ MORE: Brexit 'divorce settlement' cheap compared to 'cost of EU fraud'
The Public Accounts Committee (PAC) is currently investigating an alleged £7 billion VAT evasion case, in which traders abuse online sales platforms such as Amazon and eBay and undercut local, legitimate sellers.
"We cannot have a situation where British firms are being put out of business by overseas traders fraudulently gaming the system and dodging tax," Tory committee member Charlie Elphicke told the Daily Mail.
A Number 10 spokesman claimed the prime minister had "only just" seen the report and did not "recognize the figures."