Primark pulls 'racist' 'Walking Dead' t-shirt after complaint (POLL)
Published time: 22 Feb, 2017 15:15
Edited time: 23 Feb, 2017 13:03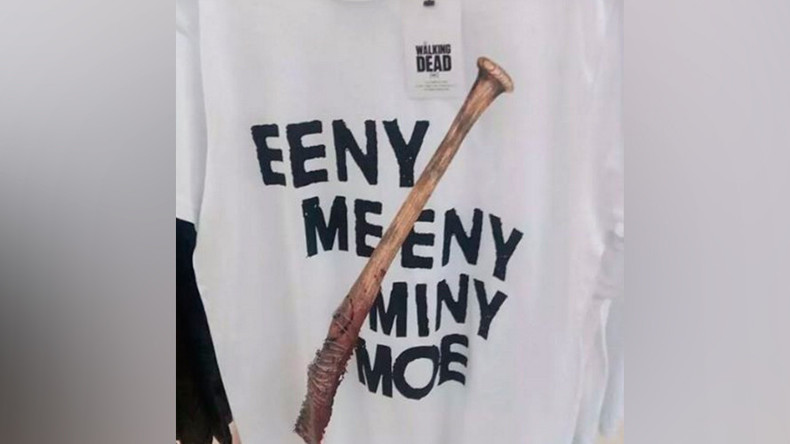 Primark removed a t-shirt carrying a phrase from the show 'The Walking Dead' after receiving a complaint from a Methodist minister in Sheffield. Ian Lucraft claimed that if he was black and faced with someone wearing the shirt he "would know just where I stand."
The controversial shirt carried the image of a baseball bat wrapped in barbed wire with the words "eeny meeny miny moe", a phrase uttered by the show's villain Negan before he chooses a victim to kill. Lucraft complained to the store over the racist origins of the phrase, prompting Primark to pull the shirt from all branches.
The line, from a children's counting rhyme, is followed by the words "Catch a tiger by the toe" but older versions used a racial slur against African-Americans instead of 'tiger'.
"It was fantastically offensive and I can only assume that no-one in the process of ordering it knew what they were doing or were aware of its subliminal messages," Lucraft told the Sheffield Star.
Primark reportedly withdrew the shirt soon after Lucraft sent copies to media outlets. "Any offence caused by its design was wholly unintentional and Primark sincerely apologizes for this," it said in a statement.
A company spokesperson told the Star the product was licensed merchandise for the zombie TV series, with both the quote and bat image "taken directly from the show". They also apologized for any offence caused, saying this was wholly unintentional.
READ MORE: Schoolboy questioned after teachers mistake his T-shirt for ISIS propaganda
A petition has since been launched online to have Primark re-introduce the shirt. Jasmine Williams who started the petition claims Lucraft has no right to say "what is and isn't racist on behalf of a group of people, of which he has no right to speak on behalf of."
"I'm just shocked that a retail corporation could panic so much on the complaints of one ill-minded customer speaking as if he himself is black!" she said.
Tell us what you think, was Primark right to pull the shirt?