Schoolboy questioned after teachers mistake his T-shirt for ISIS propaganda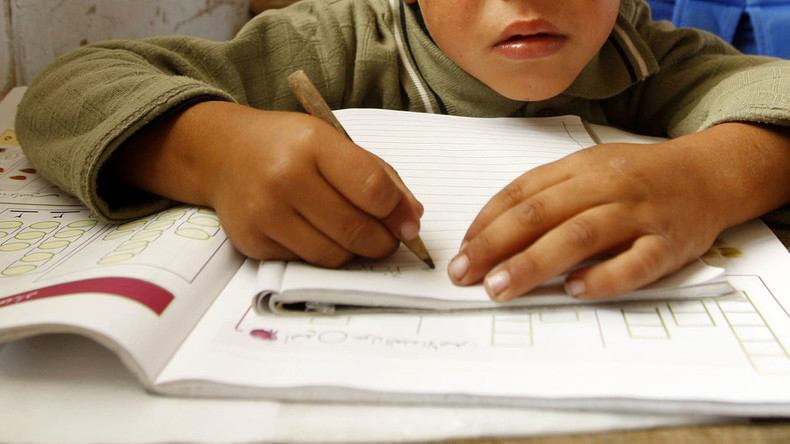 An eight-year-old schoolboy was questioned by British authorities after his teachers mistook a slogan on his T-shirt for Islamic State propaganda.
The child, from a school in East London, went to class wearing a top written with the words, "I want to be like Abu Bakr al-Siddique" – the first Caliph of Islam – but teachers instead confused the name with Abu Bakr al-Baghdadi, leader of terrorist group Islamic State (IS, formerly ISIS/ISIL).
READ MORE: National Union of Students challenges 'racist' counter-radicalization strategy
The boy was also asked about his faith and whether he believed Christians go to hell when they die, along with what TV programs he liked.
Social services informed the boy's mother that they had recorded a "form of caution" against her son and it remains unclear whether this will affect him in future.
'Prevent' is the Home Office's controversial anti-extremism program which targets people believed to be at risk of radicalization.
Charity Rights Watch UK has frequently criticized the strategy, saying it makes Muslim pupils feel unwelcome in schools.
A report by the organization from July 2016 found that the program is having a negative impact on Muslim students and their studies.
In one of several case studies highlighted by Rights Watch UK, a 16-year-old student with learning difficulties was referred to 'Prevent' for borrowing a book on terrorism from a school library.
Similarly, a 17-year-old was questioned by police under the strategy for supporting the Palestinian cause.
The director of the charity, Yasmine Ahmed, called the latest incident "completely unacceptable" and said the young boy had been suffering from "stress-related health problems" since the incident.
READ MORE: Prevent 'counter-radicalization' strategy condemned by human rights NGO
"It is completely unacceptable that the government is collecting, retaining and potentially sharing information on children in the United Kingdom without their consent and with no apparent regulation and oversight, particularly in instances where these children are not even accused or suspected of engaging in unlawful activity," Ahmed said.
A Home Office spokesperson told the Independent the 'Prevent' program is to safeguard children: "Schools should be a safe place where young people can discuss any issue and develop the knowledge to see extremist ideologies for what they are and challenge them."
"The Prevent duty is about safeguarding children from extremist ideologies, not about shutting down that debate — to suggest otherwise is just wrong," he added.