'Would you like to carry a gun?' British police asked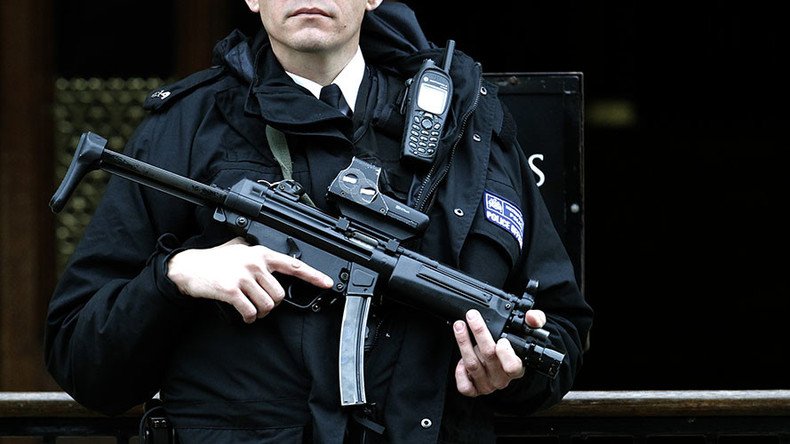 British police are taking part in a survey to determine whether they would like to routinely carry guns and Tasers to counter possible terrorist attacks.
The Metropolitan Police Federation, London's police union, launched a major new survey on Monday to ask its 32,000 members if being armed at all times would actually demoralize officers on the job.
The force is also asking officers whether they would personally rather carry a gun or a Taser.
British police have historically patrolled unarmed. Although firearms units have been expanded over time, their proliferation has always been met with controversy.
Following the terrorist attacks in Paris and Brussels, however, Scotland Yard announced plans to train an additional 600 officers to carry firearms.
The first cohort of highly trained firearms specialists was introduced last August. Its officers carry carbine rifles, glock pistols, shotguns and semi-automatic rifles. Armed police were seen patrolling several public events over the Christmas season.
"We're not an armed force, we never have been. But the terrorism threat in London is constant and our officers must be vigilant and be able to deal swiftly with any scenarios we face," Federation Chairman Ken Marsh said.
"We are moving closer towards that by arming 600 more officers and I think it's only fair that we ask our colleagues – who go out there on a daily basis – what they want."
Previous surveys of police officers have shown that the force was not keen on changing the current approach, but the public holds a different opinion.
A poll held shortly after the Paris shootings of November 2015, which killed more than 130 people, found that 58 percent of Brits believe police officers should carry guns.
Two thirds of those quizzed also thought British police are not sufficiently prepared to deal with a terrorist attack of that scale. Britain's official threat level for an international terrorism attack has been at "highly likely" for over two years.
Currently, around 92 percent of police officers do not carry guns on the job.
Chairman Ken Marsh: "We are saying let's have an informed debate about whether #police officers want to carry guns/Tasers."

— Met Police Fed (@MPFed) January 9, 2017
Chairman Ken Marsh: "We need to know whether all of our colleagues want to carry a firearm or a Taser. We have not heard this yet"

— Met Police Fed (@MPFed) January 9, 2017
Some experts believe, however, that arming officers will have no effect in deterring terrorists from attacking Britain's biggest cities.
"The reality is, and we only have to look at places that have routinely armed police officers, is that this doesn't prevent terrorists from attacking them," former counter-terrorism detective David Videcette told RT. "It doesn't make the public or police officers any safer.
"What it may do is bring a situation to a conclusion faster if currently unarmed police has a gun and happens to be the first on the scene where they shoot a terrorist. But again the evidence of this isn't supportive.
READ MORE: Learn 'terrorism first aid' in case of an attack, public told

"There were armed officers on scene within moments of the Bataclan massacre in 2015, one terrorist was shot dead, but the single officer has to withdraw under heavy fire, and then it was a further hour before police stormed the building in any numbers. Should that happen in London, I would be confident that our current response of armed officers would better that of the French."
The Met Police confirmed that it had allowed the Federation to use its systems to poll individual officers, but that it was not taking any further part in the survey.
"The position of the Met and the Commissioner is clear – we are proud to maintain the tradition that police in this country are not routinely armed. The routine arming of the Metropolitan Police is not supported," a spokesman said.
You can share this story on social media: