British Christmas markets see more police deployed after Berlin truck massacre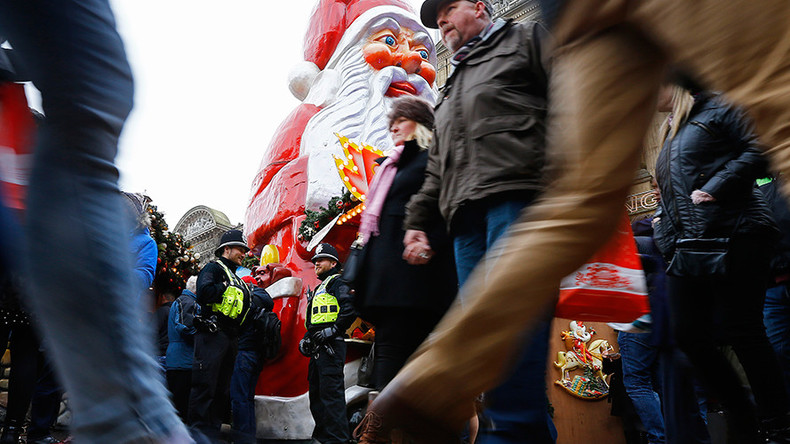 Police forces in Britain have stepped up patrols at Christmas markets across the country, after Monday's tragedy in Berlin sparked fears of copycat terrorist attacks.
"I want to reassure Londoners and those visiting our city over Christmas that the Metropolitan Police will review all security plans in London in light of last night's events, and that keeping everyone safe remains the highest priority for the Met commissioner and for me," London Mayor Sadiq Khan wrote on Tuesday after sending his thoughts and prayers to the German capital.
Prime Minister Theresa May joined the wave of condolences but added that there were "no plans to change threat level" of terror attacks in the UK. There were no plans for an emergency or Cobra meeting, as the level is already at "severe."
While the motives behind the Berlin incident – in which a truck drove into gathered crowds at a popular Christmas market killing 12 and injuring 45 – are yet to be confirmed, experts believe it was an act of terrorism. In November, the American State Department warned US tourists to "exercise caution at holiday festivals, events, and outdoor markets" in Europe for fear of Islamic State (IS, formerly ISIS/ISIL)-led assaults. The British security services had also been warning of a high risk of terrorist acts in the UK over the festive season.
After the Berlin tragedy, 11 UK police forces confirmed the deployment of anti-terrorist squads at Christmas markets, shopping centers and other tourist hotspots until the end of the season. Their mission is to carry out "hostile reconnaissance" and spot suspicious activities.
Greater Manchester Police said it had bolstered its numbers at local markets across 10 sites.
"Greater Manchester Police already has a visible policing operation in place around the Christmas markets, in the city center, and in other key areas across Greater Manchester in the run-up to Christmas," said assistant chief constable Debbie Ford.
"We will be working in line with the national response and have strengthened our policing presence at the Manchester Christmas Markets and stepped up visible patrols, to ensure that people feel safe to go about their daily lives.
"I would like to stress at this point that there is absolutely no information or intelligence suggesting any attack is imminent in Greater Manchester. If you do have any concerns at all don't hesitate to get in touch with police."
The announcement follows pictures of Northumbria Police carrying assault rifles at the Newcastle Christmas market. Birmingham's own festive event had concrete barriers erected around it to prevent any car-bomb attacks or truck rampages like the ones seen in Berlin and Nice earlier this year.
Last week it emerged that 200 undercover Special Air Service (SAS) soldiers had been placed on British streets to help police forces in case of terrorist attacks.
A major terrorist plot was reportedly foiled last week after six people were arrested in London, Derby and Staffordshire suspected of attempting to make explosives and bomb an unspecified target on British soil.
You can share this story on social media: