'Allahu Akbar' shouts heard at Syria solidarity protest in London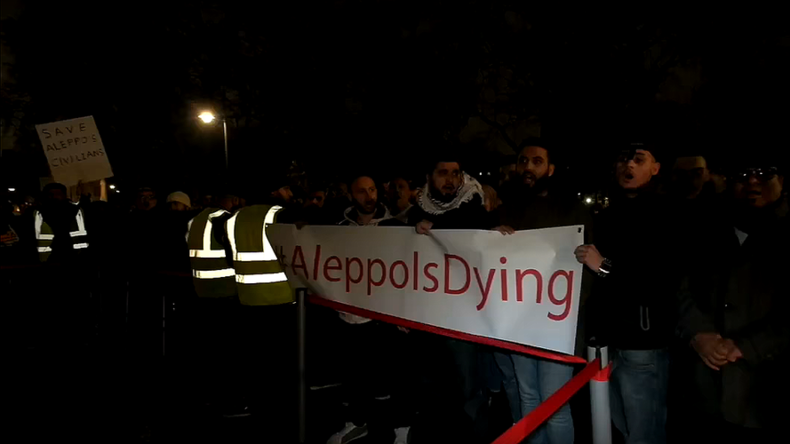 Hundreds of people attending a demonstration outside the Syrian embassy in London chanted "Allahu Akbar" after listening to speakers from a controversial Muslim advocacy group.
The religious phrase, which in Arabic means 'Allah is Great', has become infamous due to its use by extremists, who are known to cry it out ahead of performing terrorist attacks.
The Tuesday rally, organized by a grassroots group called Youth4Aleppo, included speeches from charity CAGE, which has been criticized for its dealings with Muslim fundamentalists and its sympathetic comments on Islamic State (IS, formerly ISIS/ISIL) executioner 'Jihadi John'.
"Never forget who is the problem here," the group's director, Asim Qureshi, told the crowds. "When they come and say, 'Look, America is the one who is going to come and help you in this', then we have to remind them.
"Go back to the beginning of the war on terror when we were investigating cases of individuals being put on rendition flights to Syria where they had the soles of their feet beaten by the Syrian regime the moment they arrived in prison. And who sent them there? The Americans, the CIA sent them there."
His words fired up the demonstrators, who had come to the Belgrave Square embassy to show their frustration with the British government's failure to halt "mass murder" in Syria.
Last year, Qureshi found himself in the middle of a scandal after describing Jihadi John, real name Mohammed Emwazi, as "extremely kind, gentle and soft-spoken, the most humble young person I knew." Qureshi argued contacts with the British security services had led Emwazi to radicalization.
Former Guantanamo detainee Moazzam Begg also spoke at the protest, saying Syrian President Bashar Assad and the US government had long worked together.
"In 2002, in the beginning of the War on Terror, that means the Americans were working close, hand in hand, hand in glove, with the regime of Bashar al-Assad," he said.