Terrorist plan to bomb British Christmas shoppers foiled – six arrested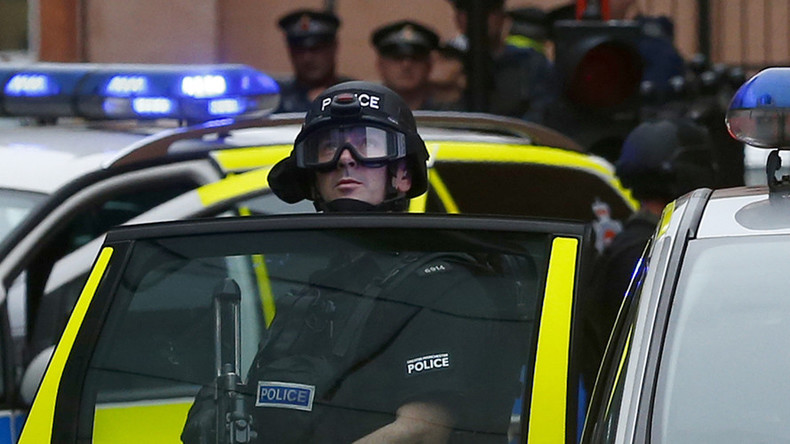 British police say they prevented a major terrorist plot to bomb Christmas shoppers from being carried out by raiding properties in London and the Midlands and arresting six suspected Islamic State (IS, formerly ISIS/ISIL) sympathizers.
In the early hours of Monday, armed forces conducting a raid on a suspected bomb-making property seized four men from Derby, as well as a man from Burton and a woman from London, all aged 22 to 36, after army bomb squads had cordoned off the streets.
The arrests, which have been described as stopping a "significant" terror plan, come after months of close surveillance by the MI5 and a coalition of police forces.
"Two cars with policemen armed with machine guns turned up," said a witness to one of the dramatic raids, which took place at a factory in Ashbourne, Derbyshire. "They went in and arrested the guy in the canteen.
"The police were heavy-handed. They were obviously taking it very seriously," he said.
Another fellow factory worker said, "It's shocking to come into work and hear about the arrest. It's even more shocking because the man is a really nice bloke. Everybody likes him. He works hard and just gets on with it. He gets involved with people."
It is believed that the group, which may have links to Islamic State, planned to set off a bomb in a British shopping center.
However, a source told The Sun: "No specific target has been identified, although the concern is that any attack would have been in a crowded shopping place.
"There has been specific information about terrorist intentions to carry out a terrorist attack in Europe during the Christmas period."
A search of a house in Normanton, Derbyshire, not far from the factory where one of the suspects was arrested, left locals fearing for their lives after police informed them that they needed to flee the area.
"I went to go to work this morning around 5:30am and had two men in Army uniforms, a man in a white forensic suit, and a police officer who wasn't in uniform just outside the front of my house," local resident Brett Granger told The Sun on Monday.
"It's scary to think things like this are happening," he added, after the police advised him to "leave the area quickly."
A spokesman for the North East Counter Terrorism Unit (NECTU) said that the Army Bomb Disposal Team had been called to Normanton "as a precautionary measure," but that no house evacuations had taken place.
NECTU, as well as forces from Derbyshire, Staffordshire, and the Metropolitan Police, are now leading the investigation. They have 48 hours to charge, release, or apply for a warrant for the further detention of the six suspects.
READ MORE: London & Portsmouth Britain's most fertile terrorist recruiting grounds
The emergence of radicalized Britons in the area is not new. Kabir Ahmed, a father-of-two from Derby who travelled to Iraq to fight alongside IS jihadists, was a member of a local cell of the Al-Muhajiroun terrorist group. He is believed to have died in a suicide bombing in Baji, Iraq, in 2014.
The threat of an international terrorist attack taking place on British soil has been classified as "severe" for the last two years. Experts believe such an incident is "highly likely," but know of no plots currently being planned.
You can share this story on social media: