New ISIS video shows Briton John Cantlie alive in Iraq, 4 years after kidnap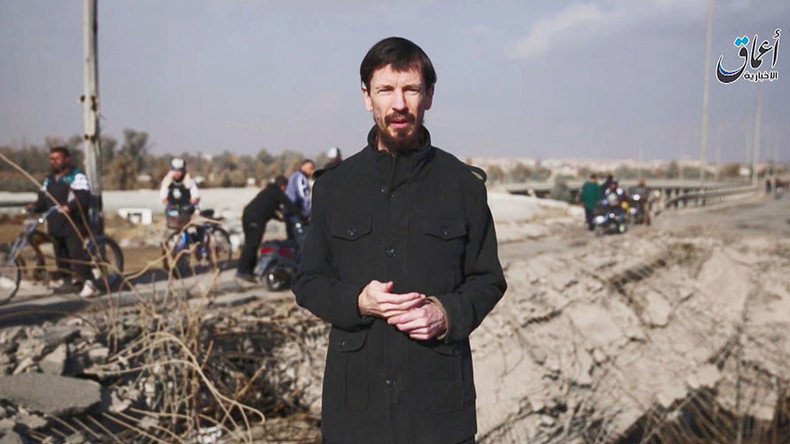 Islamic State (IS, formerly ISIS/ISIL) has released a new propaganda video showing John Cantlie, a British journalist kidnapped in Syria four years ago, still alive in the Iraqi city of Mosul.
The footage, released by the IS-affiliated Amaq network, shows an emaciated Cantlie wearing a long dark coat and speaking in English to the camera. The video is not dated, but experts say destroyed bridges seen behind Cantlie suggest it was shot in recent weeks.
Cantlie, believed to be talking under duress, describes damage to infrastructure in Mosul that he says coalition attacks have caused. He says the city, which used to have five bridges across the Tigris River, now only has one linking its eastern and western parts.
In the speech, which is believed to have been given to him by the terrorist group, Cantlie claims there are no more IS fighters in Mosul and that allied forces airstrikes are only hitting civilians.
Later in the video, Cantlie moves to another location. Behind him are people filling containers with water from a standpipe.
Mosul is currently under siege as allied forces attempt to recapture the city from IS.
Cantlie was kidnapped in 2012 along with US journalist James Foley, who was later killed by IS on camera in 2014.
Earlier this year, Cantlie appeared in an IS video questioning the US-led airstrikes against the militia.
Cantlie has previously appeared in a series of videos called 'Lend Me Your Ears,' dressed in a prison-style orange jumpsuit, and in videos mocking US President Barack Obama.
It is believed Cantlie was speaking under duress in all of them.
You can share this story on social media: