Fat, drunk, & lazy: 4 out of 5 Brits are overeating, binge drinking, not exercising enough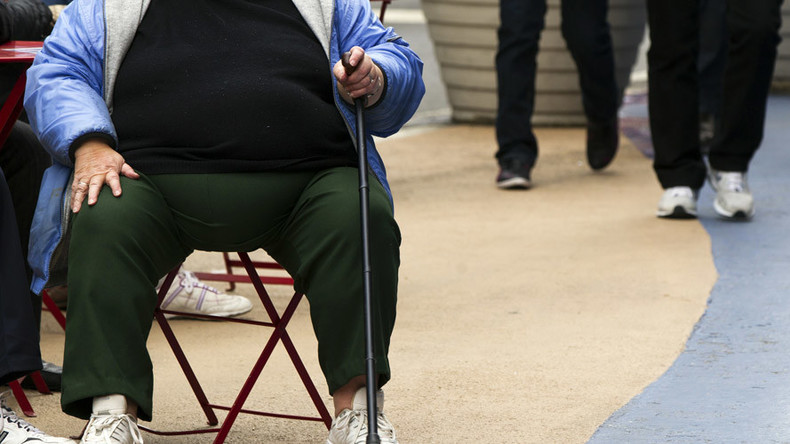 Four in every five British adults are now "overweight, lazy or drink too much," risking developing heart conditions, diabetes, and cancer, new figures show.
Public Health England (PHE) warned this week that middle aged people in Britain are damaging their health through lack of exercise and too much alcohol consumption, often derived from worrying about work and family.
Almost 90 percent of men aged 40 to 60 are not doing enough exercise and are exceeding recommended alcohol limits. A further 77 percent of men in that age range are overweight or obese.
Data on women's health is also worrying, with eight in 10 qualifying as leading seriously unhealthy lives, and another 63 percent classed as overweight.
It was found that a third of all men and a fifth of all women are consuming far more than the recommended weekly amount of alcohol, which currently stands at 14 units – or around six big glasses of wine.
Diabetes rates have shot up by around 16 percent in the last 20 years, doubling among middle aged Britons in the same period.
Obesity is considered the fourth largest cause of life-threatening illness in England, after hypertension, high-cholesterol, and smoking.
"The demands of modern day living are taking their toll on the health of the nation, and it's those in middle age that are suffering the consequences most, as their health reaches worrying new levels," said PHE clinical adviser Professor Sir Muir Gray.
"Over 15 million Britons are living with a long term health condition, and busy lives and desk jobs make it difficult to live healthily. But just making a few small changes will have significant benefits to people's health now and in later life."
Only 13 percent of men and 21 percent of women in the worrying age group are actually believed to be leading healthy, active lives. Inactive adults are doing less than 30 minutes of exercise each week, which could even include more energetic housework such as gardening.
Britain now ranks as one of the top countries for obesity in Europe, with experts criticizing the government for failing to tackle the problem.
nothing reveals the alarming extent of britain's obesity epidemic quite like a night in the pub on the friday before christmas.

— horrowfide (@horrowfide) December 23, 2016
The nation's lack of activity is such that some scientists suggest today's adults do not need half as many calories as their parents' generation once did.
Current guidelines still show men needing around 2,500 calories and women aiming for 2,000 calories a day. But the targets were drafted in the early 20th century, when most did not own a car and had to walk to work, as well as having to move around town to be in touch with friends and relatives, as phones were not a standard household item.
READ MORE: Increasing obesity may cause 700,000 new cancer cases in UK by 2035
"Typically, life in the 21st century might mean a commute into a desk-based occupation, and three or four meals a day, leading to many people consuming more calories than their lifestyles require," said London School of Economics researcher Dr. Joan Costa-Font.
"We still eat like our parents did, or worse, but we don't move around nearly as much as they did. People no longer have to visit each other to hold a face-to-face conversation, they can simply Skype. We jump in the car or the bus or the Tube rather than walking.
"As lifestyles have slowed down and become more sedate, people haven't amended their calorie intake accordingly. We should all eat less."
PHE hopes that directing people to healthy living apps and spreading information about the dangerous consequences of inactive lifestyles and indulgent drinking will kickstart a change in habits. Programs such as Couch to 5K, Alcohol Checker, and Easy Meals are being referred to patients as tools to improve their health and promote healthy lifestyles.
You can share this story on social media: