Scottish activist planning to sue Trump golf course for 'filming her urinating'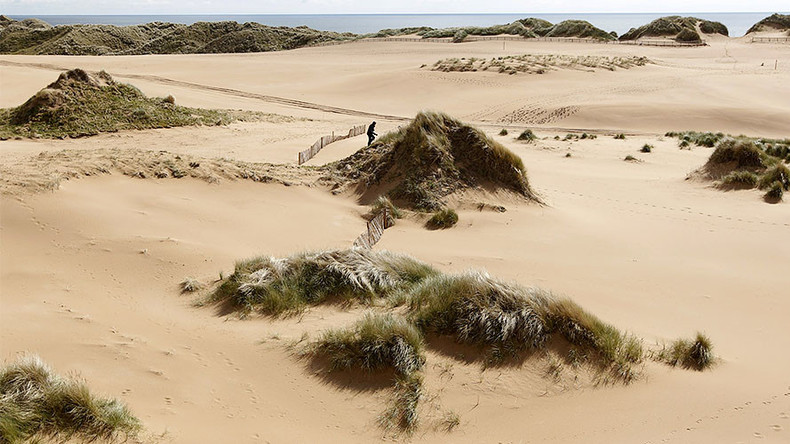 An Edinburgh court will decide on Thursday whether an environmental activist can sue Donald Trump's golf resort in Scotland for breach of privacy after she was allegedly filmed without consent urinating behind a dune on the course.
Trump International Golf Course Scotland, which is wholly owned by the US president-elect, is expected to fiercely contest the action, according to the Guardian.
A lawyer acting for Rohan Beyts, a long-time critic of the environmental and community impact of the resort, has accused Trump's staff of breaching the Data Protection Act for filming her.
Beyts and a friend had used a public footpath across the Trump course to reach the sand dunes and beach that border the golf links. As they returned from their walk, Beyts says she was challenged by resort staff and then photographed by a local newspaper photographer.
Three days later, she was formally charged with public annoyance. Beyts says she was told by police that two members of Trump's staff and a guest on the course had filmed her on their mobile phones.
Her prosecution has raised fresh concerns among local activists that Trump's staff deliberately target his critics and monitor their movements on the resort.
It's not the first time Trump's golf course has made the news this week. On Wednesday, it was revealed that the US president-elect spent many years trying to persuade the Scottish government to halt its plans to build wind farms because he was worried they would spoil the views from his Aberdeen course.
The proposed 11-turbine wind farm, to be built off the northern coast, would have a detrimental effect on Scotland's landscape, according to Trump, who wrote a series of colorful letters to then First Minister Alex Salmond.
Trump claimed the "monstrous" turbines and "insanity" of the scheme would bankrupt Scotland. He went on to say Salmond would be known as "Mad Alex - the man who destroyed Scotland" if he went ahead with the plan.
He warned that Scotland's economy would become a "third world wasteland" as a result of its commitment to renewable wind power, only to vow weeks later to act as the Scottish government's "greatest cheerleader" if it performed a U-turn on the deal.
Trump, with whom Salmond was friendly before the wind farm falling-out, also said the "craziness" of the plan would damage the Scottish leader's hope for independence.
The letters, obtained by the Huffington Post, show Trump wrote to Salmond asking why the Swedish energy firm Vattenfall was being allowed to "ruin" the Scottish coastline, saying: "Let them ruin the coastline of Sweden first."
He went on to say: "Please understand that I am doing this to save Scotland and honor my mother, Mary MacLeod who, as you know, was born and raised in Stornoway. She would not believe what you are doing to her beloved Scotland!"
Trump also lobbied other UK ministers. He wrote to then Defence Secretary Philip Hammond praising the Ministry of Defence's concerns about the project.
In August 2012 he wrote: "The defense of the UK is far too important to tinker with just to satisfy Alex Salmond's bloated ego."
The papers released include just one reply from Salmond, in which he told the property tycoon that building up the renewable energy industry would help create job opportunities in Scotland.
Trump is an avowed climate change skeptic, and has claimed it is a "hoax" invented by the Chinese.
It emerged last month that Trump urged then-UKIP interim leader Nigel Farage to campaign against wind farms in Scotland.
Andy Wigmore, a 'Leave' campaigner in the Brexit referendum who attended a meeting between the two men, said the billionaire had urged him and Farage to "campaign against getting rid of wind farms in the way they currently stand."
Vattenfall is going ahead with the project after legal attempts by Trump to stop the scheme were rejected by the Scottish courts.
You can share this story on social media: