Trump threatens Scottish minister over windfarms in newly-released letters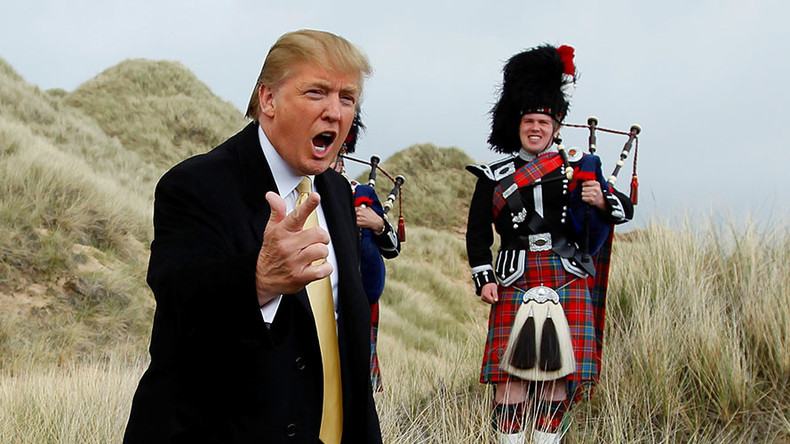 A potential insight into president-elect Donald Trump's future methods of international diplomacy have been revealed in a barrage of communications he sent to Scottish minister Alex Salmond over proposed wind farms near his golf course in Aberdeen.
The messages, sent between September 2011 and June 2013, contain abuse and threats made by Trump to the former first minister of Scotland, Alex Salmond, whom he refers to as "Mad Alex".
READ MORE: New independence vote 'within 2yrs' if Scots' Brexit demands dismissed – Alex Salmond to RT

The communications, obtained by the Huffington Post, vary from cajoling to threatening in a wildly eccentric fashion, revealing Trump's temperament when challenged.
The letters start in September 2011, when Trump objects to the proposed windfarm, warning "after totally decimating the local bird population, Aberdeen will be left with a useless eyesore."
Trump sent Salmond a number of follow up letters, attaching what Trump described as "bad articles on wind projects." A February 2012 letter warns of the fact that wind turbines are manufactured in countries like China, which he claims "are laughing at you."
The letter goes on to tell Salmond he will "single-handedly have done more damage to Scotland than virtually any event in Scottish history," should he go ahead with wind energy plans.
"I have just authorised my staff to allocate a substantial amount of money to launch an international campaign to fight your plan to surround Scotland's coast with many thousands of wind turbines," he continued. "It will be like looking through the bars of a prison and the Scottish citizens will be the prisoners!"
"Luckily tourists will not suffer because there will be none," he adds, claiming they will boycott Scotland for wind turbine free destinations. He goes on to say Ireland in particular is happy as they will take "all of your tourism and business."
READ MORE: Conflicts of interest pile up as Donald Trump prepares for presidency

The billionaire businessman sought to get his way by telling Salmond the dream of Scotland's independence would be "gone with the wind" if he continued with his support of windfarms.
Trump also claimed the Scottish economy would "become a third world wasteland that investors will avoid" if wind farms, which he referred to as "monsters," were allowed to happen.
"Remember what I said," Trump warns in a March 2012 letter, "Scotland will go broke and forever lose whatever chance you currently have of making Scotland independent."
Trump claimed he wanted to "save Scotland," presumably from the wrath of renewable energy, to honor his mother who was born in Scotland before emigrating to the US.
Another letter addressed to Defense Secretary Philip Hammond shows Trump praising Hammond for his objection to "those horrendous machines that will ruin Scotland and compromise the United Kingdom's Air Defense program."
It goes on to take a swipe at Salmond, referring to his "bloated ego," and claims there is a "great uprising" against the "monstrous turbines."
Salmond replied to just one letter, "I don't expect you to support the development of offshore wind in Scotland," it says. "But I hope this letter will help you to understand the position of the Scottish government in terms of the importance we place on this industry's great potential."
A spokesperson for Salmond confirmed the letters' authenticity, saying, "we can only hope that the responsibilities of office change a man and that the President elect comes to see the benefits of renewable energy not only to the environment but to local businesses and communities."
For those who hold such hopes, Trump's appointment of ExxonMobil chair Rex Tillerson as secretary of state, and climate change denier Rick Perry as head of the Department of Energy, might not instill much confidence.