Putin & Assad are our friends against terrorism, says new UKIP leader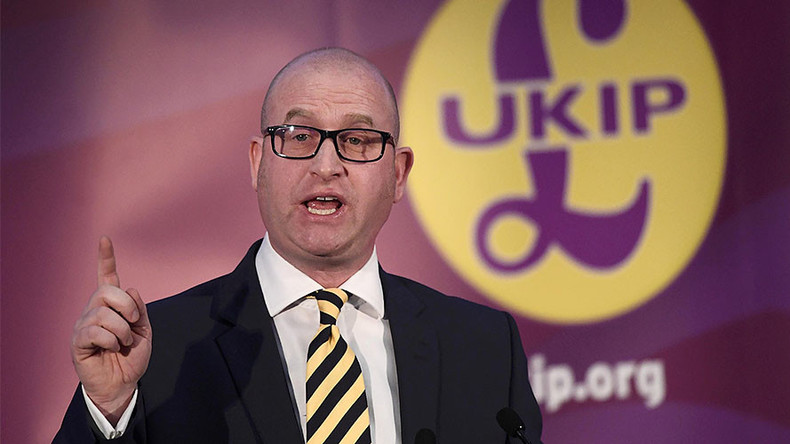 Newly-elected UKIP leader Paul Nuttall believes Russian President Vladimir Putin and Syrian President Bashar Assad are "on our side" in Britain's fight against Islamic extremism.
Nuttall has been at the helm barely 24 hours, but has already made his mark, suggesting Britain "got it wrong… helping the so-called [Syrian] rebels."
The Merseyside-born former history lecturer said he is "not a fan" of Putin's approach to his own people, but that he supported Russia's intervention in Syria.
The Assad regime is not "a threat to the globe in the way that Islamic terrorism is," he said, in reference to Islamic State's (IS, formerly ISIS/ISIL) incursions in Syria.
Questioned over the Syrian regime's alleged use of barrel bombs, Nuttall said: "Well we seemed to keep Robert Mugabe in place for many years, didn't we? I wouldn't say we are some paragon of virtue when it comes to backing dictators."
The UKIP leader's remarks came a week after he argued Putin is "generally getting it right in many areas" of the Middle East.
But unlike his predecessor Nigel Farage, Nuttall's foreign policies do not include a cozy relationship with US President-elect Donald Trump.
"I never backed Trump during the campaign and I said that some of the things that he had said were appalling and I continue to believe that," Nuttall said, following his victory speech on Monday.
"I'm sure that many people around the country agree that some of the things he said about women were beyond the pale. I thought in many ways he had the right message but he was the wrong candidate.
"I wouldn't cozy up to him, but if the president of the US comes to London, of course I will meet him."
He did, however, predict a "special relationship can really thrive" between the US and Britain over time, as Trump is a well-known Brexit supporter.
Paul Nuttall (first interview off the stage):

"If you're a remainer, it doesn't matter what colour you are, we are coming after you." 😳

— Jasmin Beckett (@Jasmin_Beckett) November 28, 2016
Trump, much like Nuttall, has called for reconciliation with the Russian Federation. The 39-year-old UKIP leader is the most recent British politician to do so, after both French presidential frontrunners François Fillon and Marine Le Pen proposed an alliance with Putin.
Nuttall has courted controversy in other areas, with his skepticism over climate change, his calls for a referendum on abortion limits, his support for National Health Service (NHS) privatization, and his belief that the fight for gay rights is a "complete joke."
Nuttall is UKIP's third leader in under three months. Diane James stepped down after just 18 days at the helm. He called his victory "day zero" for the party.
You can share this story on social media: