Farage will ask American people to forgive Brits for criticizing Trump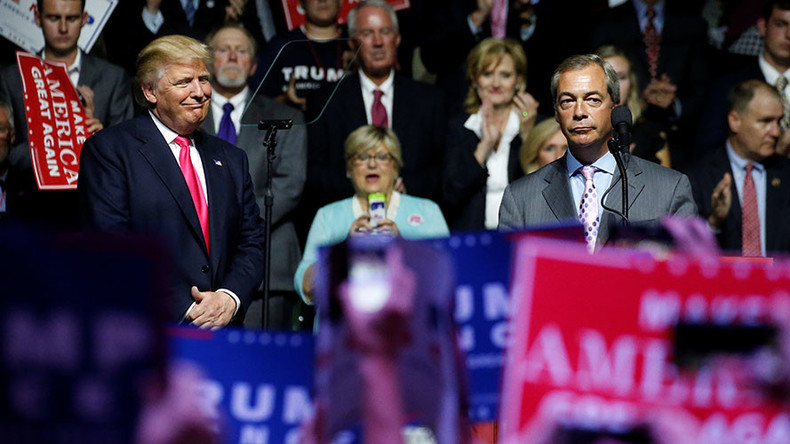 On his visit to the US this week, former UKIP leader Nigel Farage plans to ask the American people to forgive Britons for criticizing President-elect Donald Trump during his campaign for the White House.
Speaking on LBC Radio on Sunday, the former UKIP leader said it's in both British and US interests for the two countries to have the "best possible relationship" now that Trump has been elected.
He went on to tout himself as a potential ambassador to the US, after receiving a ringing endorsement from Trump, who tweeted that Farage "would do a great job."
Many people would like to see @Nigel_Farage represent Great Britain as their Ambassador to the United States. He would do a great job!

— Donald J. Trump (@realDonaldTrump) November 22, 2016
"Regardless of what Downing Street thinks, I'm going back to America at the end of this week. I'm going to meet all sorts of people and I shall say to them, regardless of whether the government uses me or not, please forgive some of the things that were said about your president during the election campaign – it's in both of our interests to get closer," Farage said.
"The best thing for us would be to have the best possible relationship with America. Let's start talking and get closer," he said.
Farage, who was replaced as UKIP's leader by Paul Nuttall on Monday, said he is willing to help out with diplomatic relations between Prime Minister Theresa May and the incoming president.
"I'm happy to help formally or informally, I'm happy to make an introduction. But I just think it is ridiculous, petty and potentially against the national interest not even to ring me up and have a chat with me, let alone ask me to make some introductions," he said.
"It isn't just Trump, but quite a few of Trump's team now taking senior positions that I have known and got on with for years. I have a slight advantage, but I promise you I'm not bigging myself up in any way," he stressed.
The UKIP MEP appeared on RT UK's News Thing program over the weekend, where he highlighted his close relationship with Trump.
"I've stood by him and he will stand by me," he told host Sam Delaney.
Asked if Trump is boring company because he drinks neither booze nor coffee, Farage – who is known for his love of English ale – insisted that the president-elect is not a dullard.
"No, he's not boring. He's a bloke, and we talk about some bloke things."
Pressed further on what constitutes "bloke things," and whether that includes "girls and cars," Farage said: "Look, he's a genuine bloke and I know his PR in the early part of the campaign was not good, and he said some things on the platform that really weren't good."