Trump will get on plane & talk to Putin – Farage to RT (VIDEO)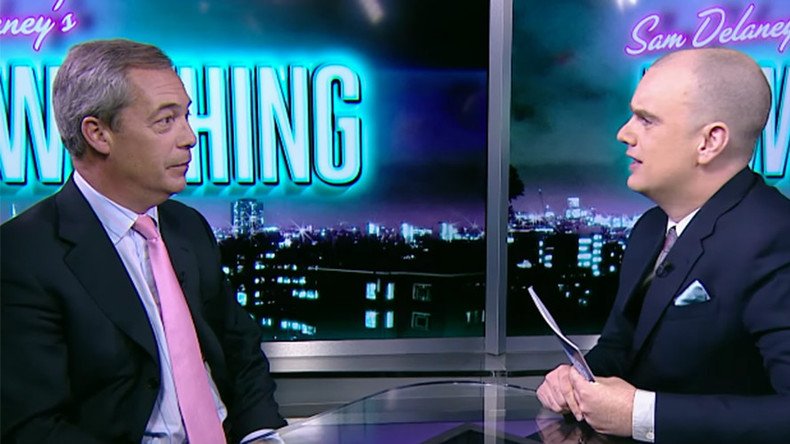 Donald Trump will make the world a safer place by flying to Russia and speaking directly with President Vladimir Putin, UKIP interim leader Nigel Farage told RT.
Speaking on Sam Delaney's 'News Thing' show, Farage said critics of the president-elect who claim he will make the world a more dangerous place are wrong because Trump is not a military interventionist.
The UKIP MEP also said he hoped Trump would build a "big, beautiful wall" along the Mexican border and described the incoming president as "a bloke" who likes to talk about "bloke things."
The interview will be broadcast exclusively on RTUK at 22:25 (GMT) on Saturday and Sunday.
Farage denied that Trump's foreign policy is dangerous and pinned the blame for the current crisis in the Middle East on "liberal" politicians.
"Number one, he's not a military interventionist, he wouldn't have done Libya and all those stupid things that we did to give a great big gap for [Islamic State/IS, formerly ISIS/ISIL].
"Number two, attitudes to Russia, attitudes towards Putin. The view of the European Union and certainly the Obama administration is to try to provoke Putin at every possible opportunity.
"What Trump will do, you know what, he'll get on an aeroplane and go and talk to him."
The interim UKIP leader went on to defend Trump's controversial pledges and statements made during the presidential campaign.
"I tell you what, he's going to surprise everybody. Because he might have said a few things out there during the campaign, he might have offended a few people, but since he's been president-elect he's speaking to the nation saying we must all come together.
"He is going to control that border with Mexico, no question… I hope he builds the wall and a big beautiful wall. Look, Bush built 600 miles of fences, he's going to do something with that. But the key is can he make ordinary Americans better off? Will they feel more money in their pockets in four years' time? And my guess is, he might just do it."
Farage went on to say he gets along well with the president-elect. "I've stood by him and he will stand by me," he told Delaney.
Asked if Trump was boring because he doesn't drink alcohol or caffeine, Farage – who is well known for his love of English ale – insisted he is not a dullard.
"No he's not boring. He's a bloke, and we talk about some bloke things."
Pressed further as to what "bloke things" he talks about and whether that includes "girls and cars," Farage said: "Look, he's a genuine bloke and I know his PR in the early part of the campaign was not good and he said some things on the platform that really weren't good.
"But you know what, I've met a load of people now who have known this bloke for 20-30 years, been in business with him, he's a very trusted friend. And if he likes you, he sticks with you."
"And if doesn't like you?," asked Delaney. "I wouldn't want to be in that position," the UKIP leader replied.
You can share this story on social media: