Spread of horror-movie 'zombie knives' forces ban in England & Wales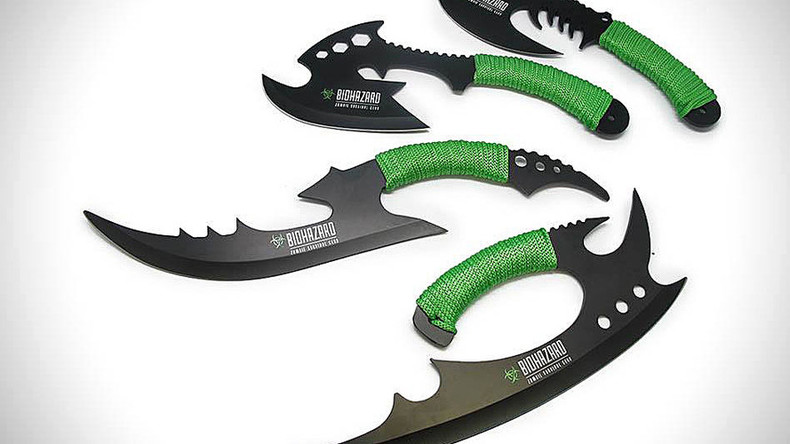 Sellers of "zombie knives" could face up to four years in jail after the government introduced new legislation to crack down on the "horrific" weapons.
The knives, which are inspired by horror films, are often sold as collectors' items and have curved blades with serrated edges.
The amendment to the Criminal Justice Act 1988 will come into force next week and will ban the sale, manufacture, rental, or importation of the weapons, which are also referred to as "zombie killer knives" and "zombie slayer knives", and can be purchased online for as little as £8.
Sarah Newton, the minister for Safeguarding and Countering Extremism, said the knives "glamorize violence."
READ MORE: London violent crime surges amid gang turf wars – study
"This government will act wherever necessary to cut crime and keep our communities safe," Newton said in a statement. "Zombie killer knives glamorize violence and cause devastating damage - they have no place whatsoever in our society."
In April, a 17-year-old was found guilty of the manslaughter of Stefan Appleton who he stabbed with a "zombie killer" machete in London.
Following the attack, the Metropolitan Police issued a guidance about the weapons, stating that the knives have no specific shape or style and can cause more damage due to their size of up to 25 inches.
Chief Constable Alf Hitchcock, the lead on knife crime at the National Police Chiefs' Council, said the knives are "absolutely horrific weapons."
"Forces are determined to reduce the harm caused by these and all other dangerous weapons," Hitchcock said. "There is no place for knife crime within society and this ban is further commitment to keeping communities safe."
So far in 2016, 401 people have been arrested with 2,011 weapons taken from the streets by 13 police forces across England and Wales.
According to police figures, there has been a 12 percent decrease in knife crime in the last five years. Authorities recorded 28,664 offences between 2015-2016, a 10 percent rise in knife-related crimes compared to the previous 12 months.
READ MORE: Gun & knife crime in London highest since 2011 riots