'He'll attempt suicide': Mother of Brit accused of trying to kill Trump fears for son in prison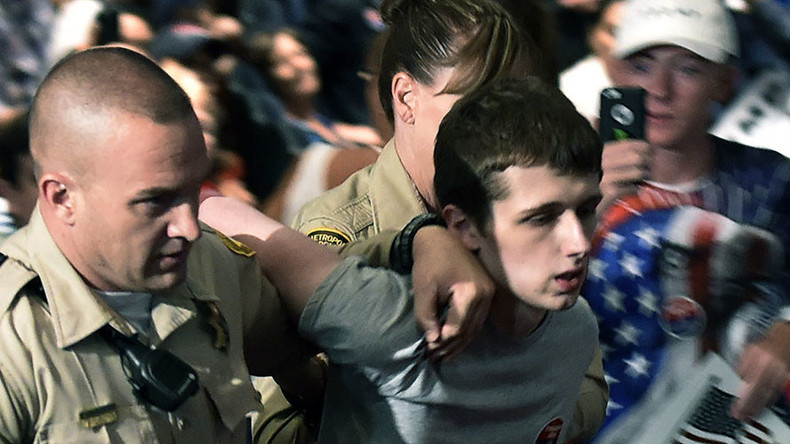 The mother of Michael Sandford, who was arrested after reportedly trying to grab a police officer's gun and shoot Donald Trump at a rally for the Republican presidential nominee, says she fears her son will attempt suicide if he's sent to prison.
Sandford was arrested in Las Vegas last month after allegedly attempting to take the weapon while asking for Trump's autograph.
"I was horrified, obviously," Lynne Sandford told the BBC's Victoria Derbyshire program. "It's very scary. This is not the Michael I know. I just can't get my head around it to be honest."
The 20-year-old, who is from Dorking in Surrey, told police he had planned to kill the presidential hopeful, but his mother insists the son she knew was "sweet, sensitive and calm."
READ MORE: British would-be Trump shooter was a 'Robot Wars' obsessive
Sandford was sectioned as a teenager after developing anorexia and was diagnosed with Asperger's Syndrome aged 13. He has tried to kill himself before, according to his mother.
"As I have said, he is very a gentle, very calm person by nature and he would see there was no point," she added. "Why would he live the next 30 years in these situations? So yes, I think he would attempt to commit suicide again."
READ MORE: Man arrested for wanting to 'kill Trump' in Vegas was in US illegally
She also said that her son "needs help, not prison," and how Sandford was being held in isolation for 22 hours a day in a medium secure facility.
Sandford was charged with disrupting an official function and also faces two firearms charges, US attorney Daniel Bogden said.
The Briton told investigators he had planned to die during his attempt to kill Trump and that he had planned the attack for a year, arriving in Las Vegas on June 17 to reportedly practise using a gun at a shooting range.