Man arrested for wanting to 'kill Trump' in Vegas was in US illegally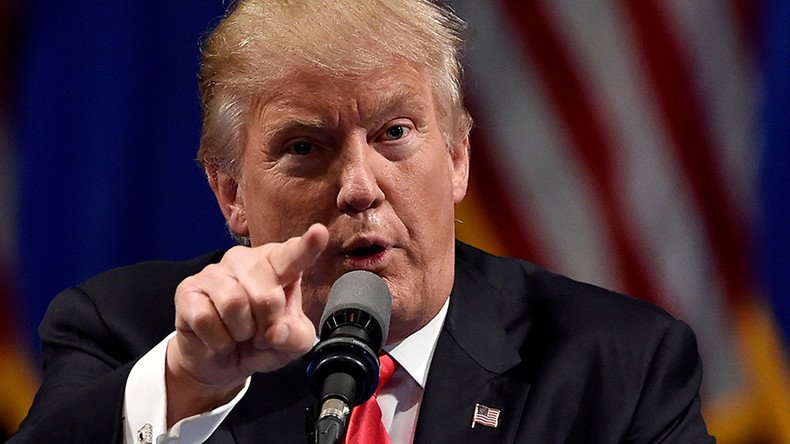 The man who attempted to steal a police officer's gun and "kill Donald Trump" at the Treasure Island casino in Las Vegas, Nevada, was in the US illegally, having overstayed his visa, a federal court found out during the arraignment.
Michael Steven Sandford faced a federal judge in Las Vegas on Monday afternoon, after his arrest on Saturday night at the Trump rally. The 19-year-old had tried to grab a service pistol from a Las Vegas Police Department officer. Secret Service agents protecting the presumptive GOP nominee then arrested the teenager, whose only form of identification was a UK driver's license.
Sandford was charged with trying to commit an act of violence on restricted grounds. At his arraignment on Monday, it was revealed that he had overstayed his visa and was in the US illegally, KLAS reported.
He was unemployed, living out of his car and has Asperger's Syndrome – a form of autism – his public defender told Federal Magistrate Judge George Foley, according to the Associated Press. His car was identified by the authorities as a 2007 BMW 328i.
While Sandford does not have a criminal record or a diagnosis of mental illness, he has tried to commit suicide in the past, KLAS reported.
The five-page complaint against the British national, filed Monday morning by US Attorney Daniel Bogden, shows that Sandford had never fired a gun before Friday, when he went to the Battlefield Vegas gun range and fired 20 rounds from a 9mm Glock pistol.
The following day, he approached LVPD Officer Ameel Jacob and told him he wanted to get Trump's autograph. He targeted the officer because he believed his holster was unlocked, reasoning that it would be the easiest way to shoot Trump, according to the Secret Service agents cited in the complaint.
Sandford said he had been planning to kill Trump for a year, but decided to act on this occasion because "he finally felt confident about trying it," the complaint said. He also said that "if he were on the street tomorrow, he would try this again."
He told Secret Service agents that he expected to fire one or two shots before getting killed by law enforcement.
Sandford had been in the US for the past year and a half, living in Hoboken, New Jersey, before driving to the Ontario-San Bernardino area of California at some point, according to the complaint.
The judge ordered the would-be assassin to remain in custody. His next court date is set for July 5.
You can share this story on social media: